THE PERFECT FAMILY GETAWAY
If you have followed me for very long you know that my family loves camping. That being said, this month I was looking for something that would still be outdoors and fun, but without all the extra packing, millions of check lists, and hours of preparation. Thats when I heard about glamping. The more research I did, the more I wanted to find out about this low maintenance camping experience. I found Glamping Hub and knew they were the way to go. After looking at all their different options in Utah, we found an adorable resort just north of St. George – The Holmstead Ranch Resort.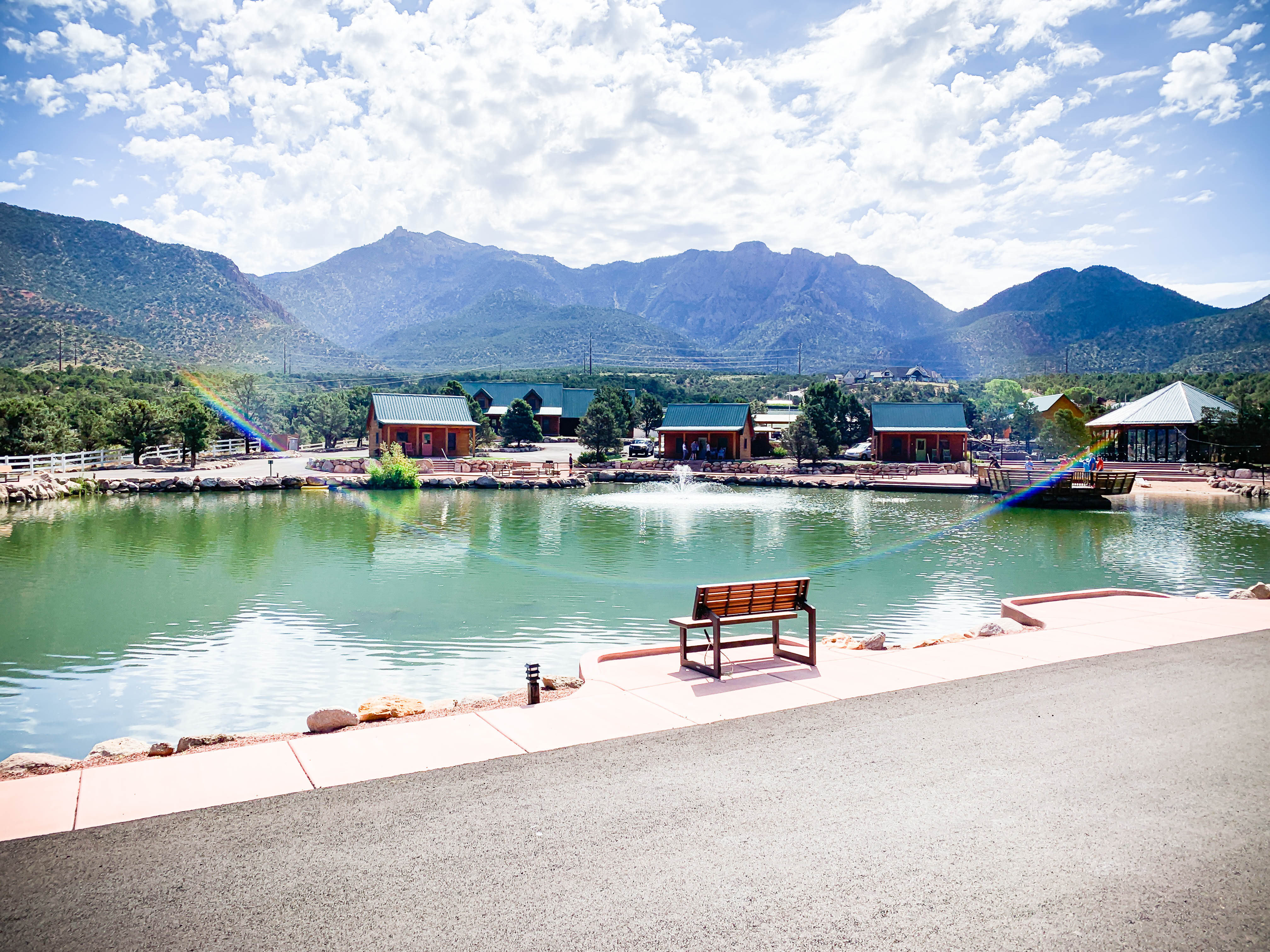 This adorable little place just north of St. George that we found ended up being a dream. It was seriously perfect in every single way. If you are coming from St. George it is about a 30 minute drive towards Pine Valley. The Holmstead Ranch Resort is just past Baker Dam and is really quite the hidden gem.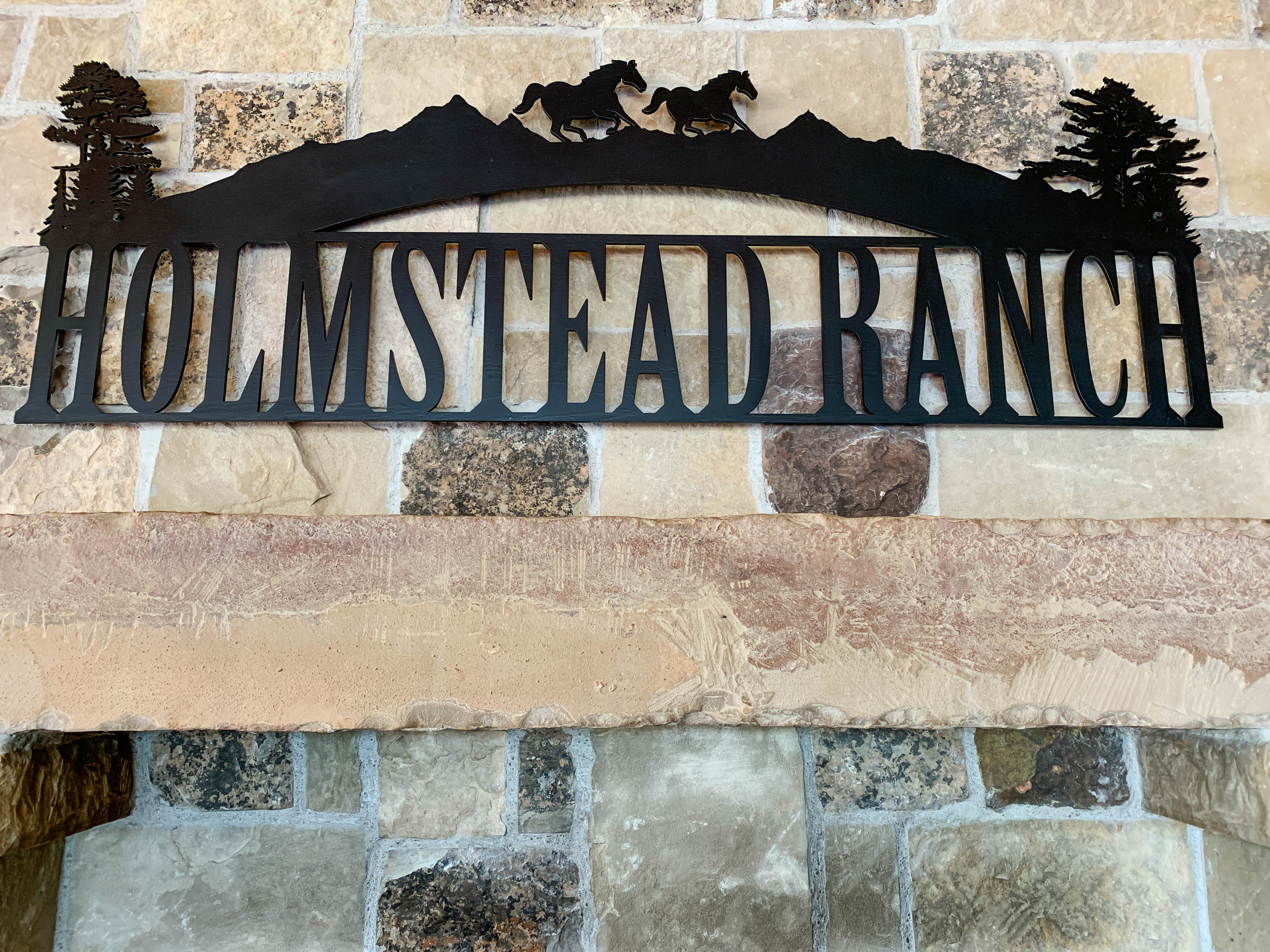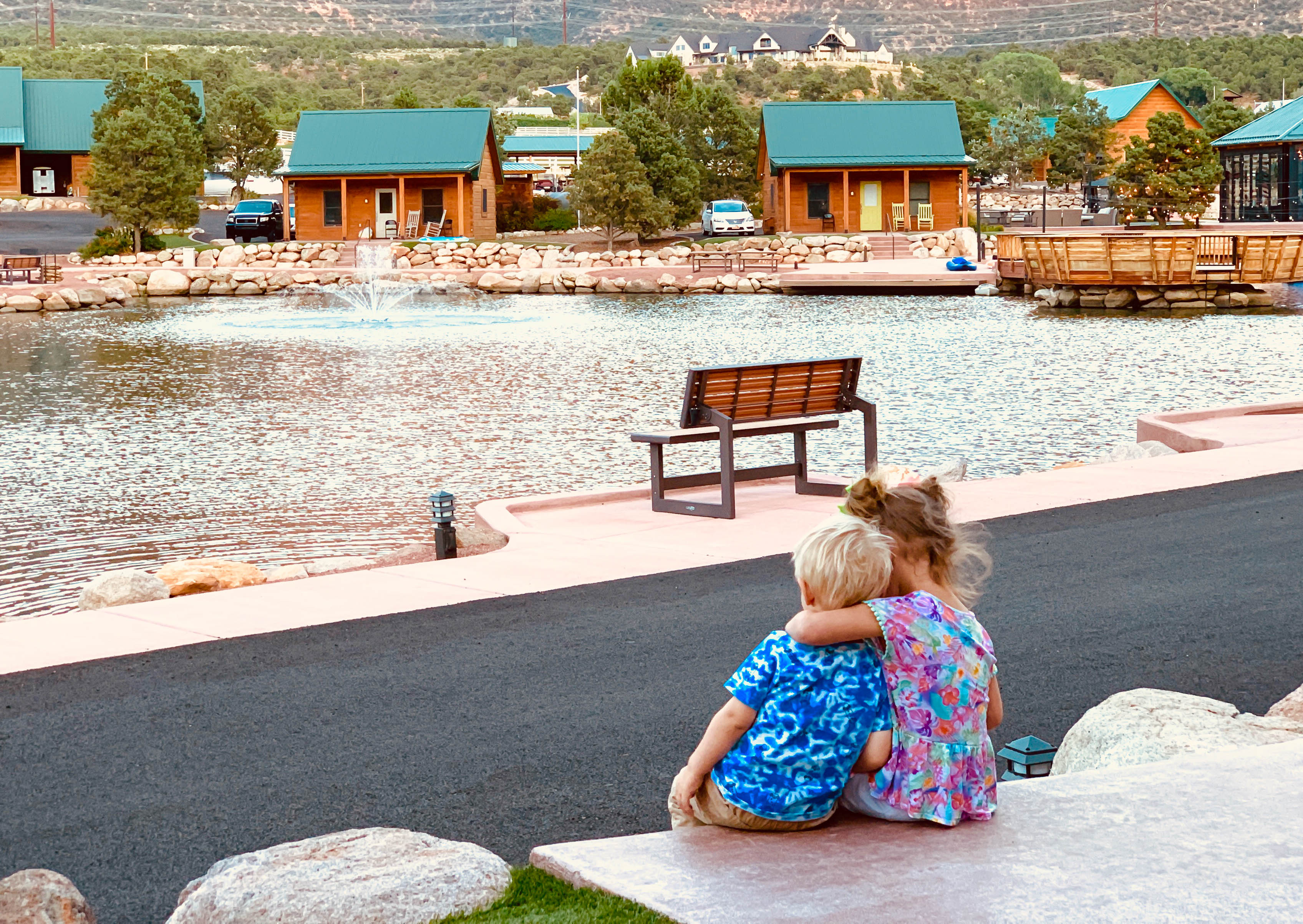 The minute we got to the Holmstead Ranch Resort we knew we were going to love our stay. There was something about the whole resort that just welcomed you with open arms and promised a weekend of the perfect mix of adventure and relaxation. Within the first few minutes the kids explored the 'log house' and quickly claimed their beds! Not soon after, they were pleading with us to "get in the water" which was conveniently right outside.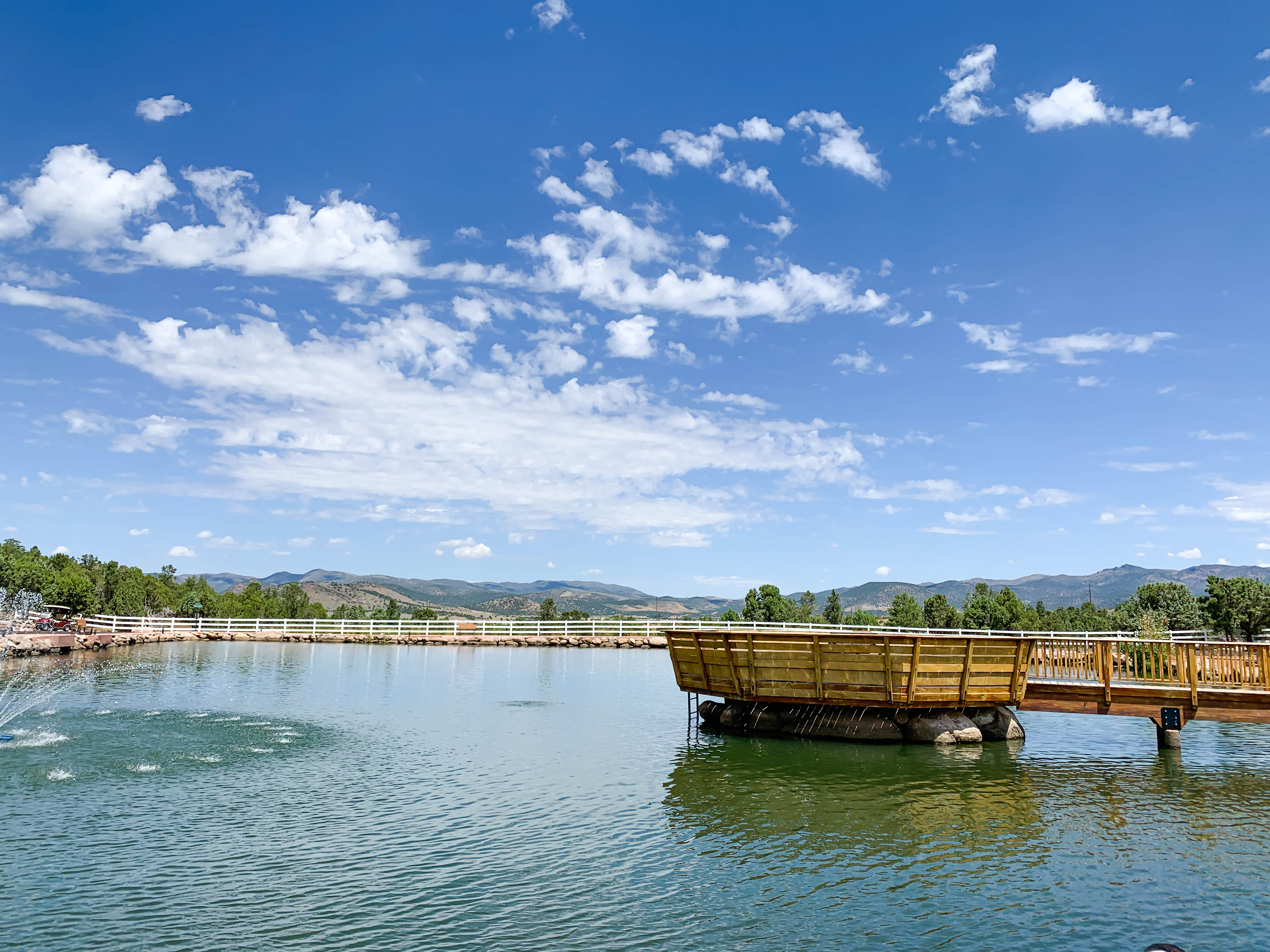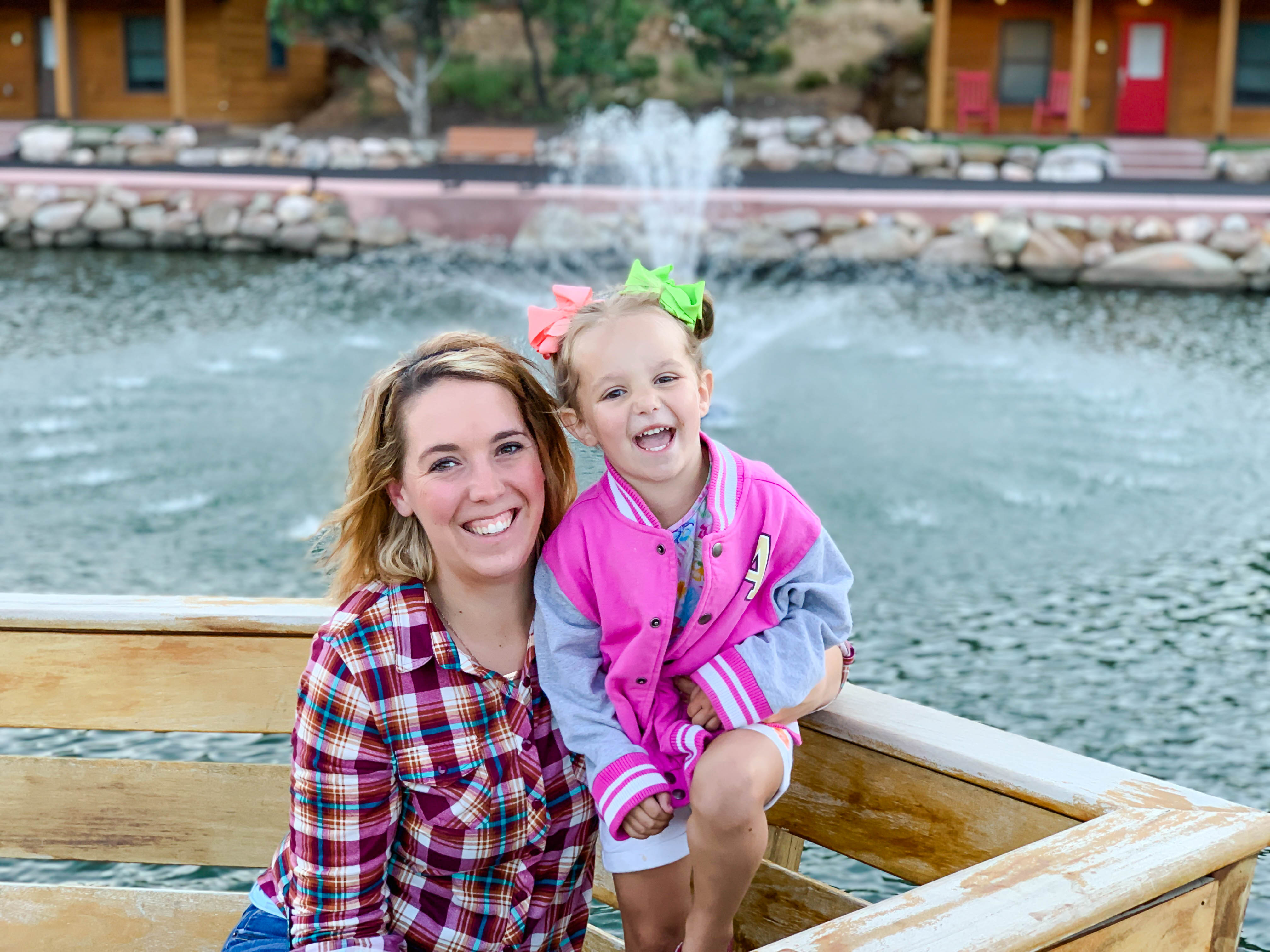 The water was beautiful with a dock and fountains to really made the whole scene magical. During the day we took the kids on the kayaks and paddle boards (provided at no extra charge) and spent hours at the beach area swimming around in the water. In the evenings we spent time walking up and down the docks finding and naming every duck we could find.
The kids loved the ducks and even found a staff member who brought them some food to feed them. The staff really went out of their way to make our stay perfect.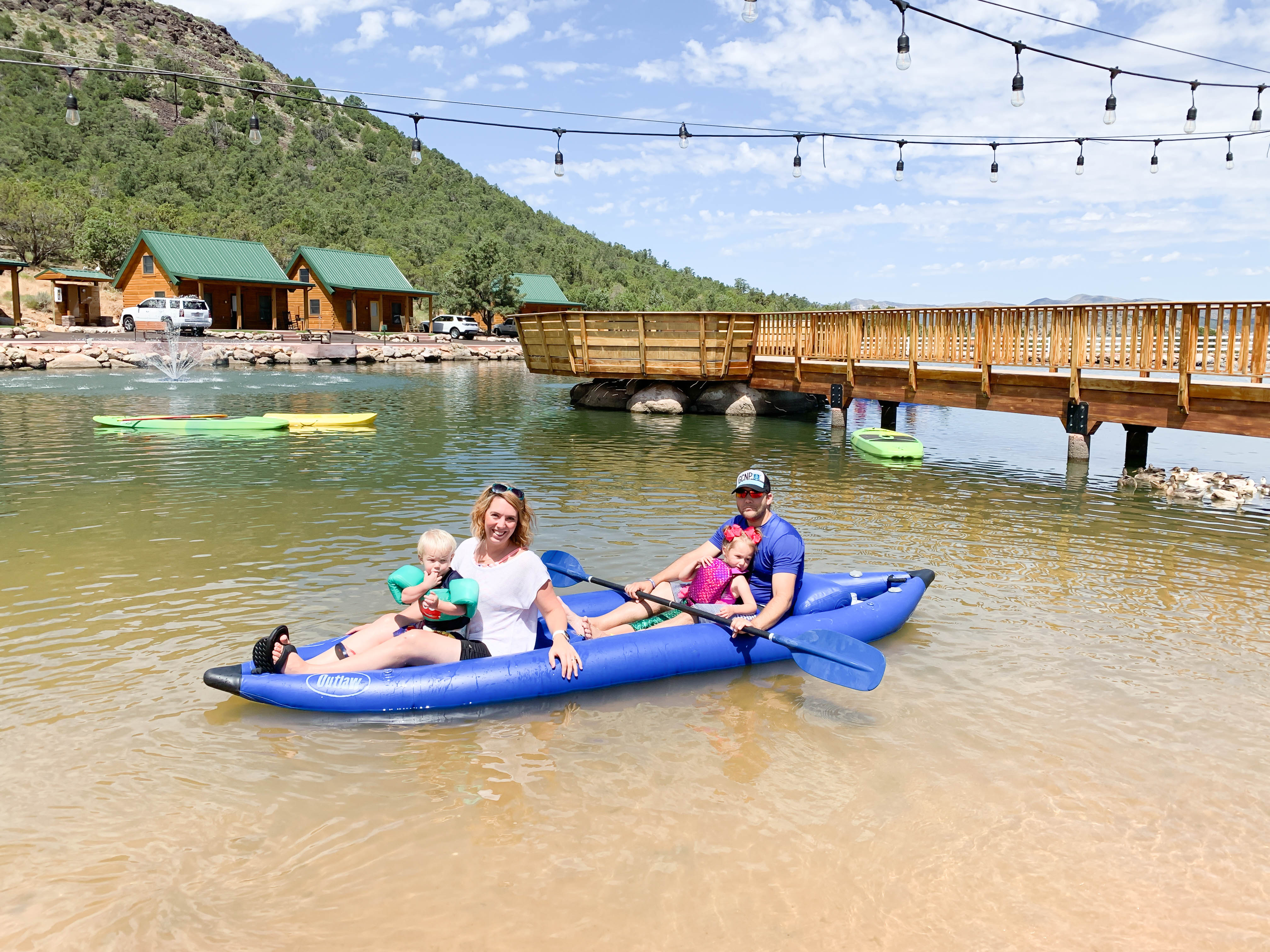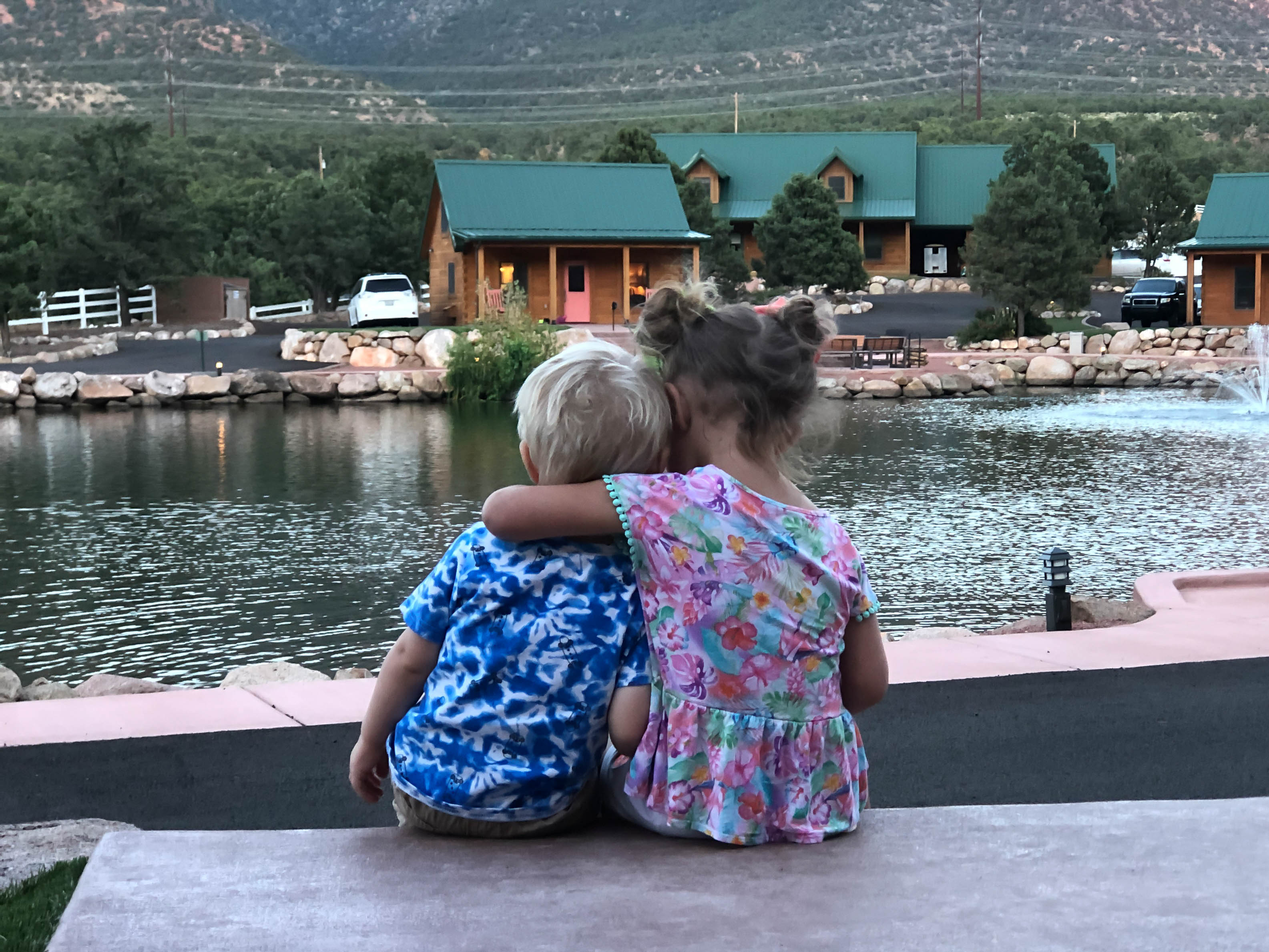 After we were dried off and changed, we took the golf carts (you can rent them for $35 a day) and drove up to see the animals on the ranch. You name it, they had it! They had a baby alpaca that had been born the day before and a baby llama that was just a few months old. The kids loved the horses, chickens, bunnies, and all the other animals. They were friendly and let the kids pet them which basically made this place as cool as Disneyland.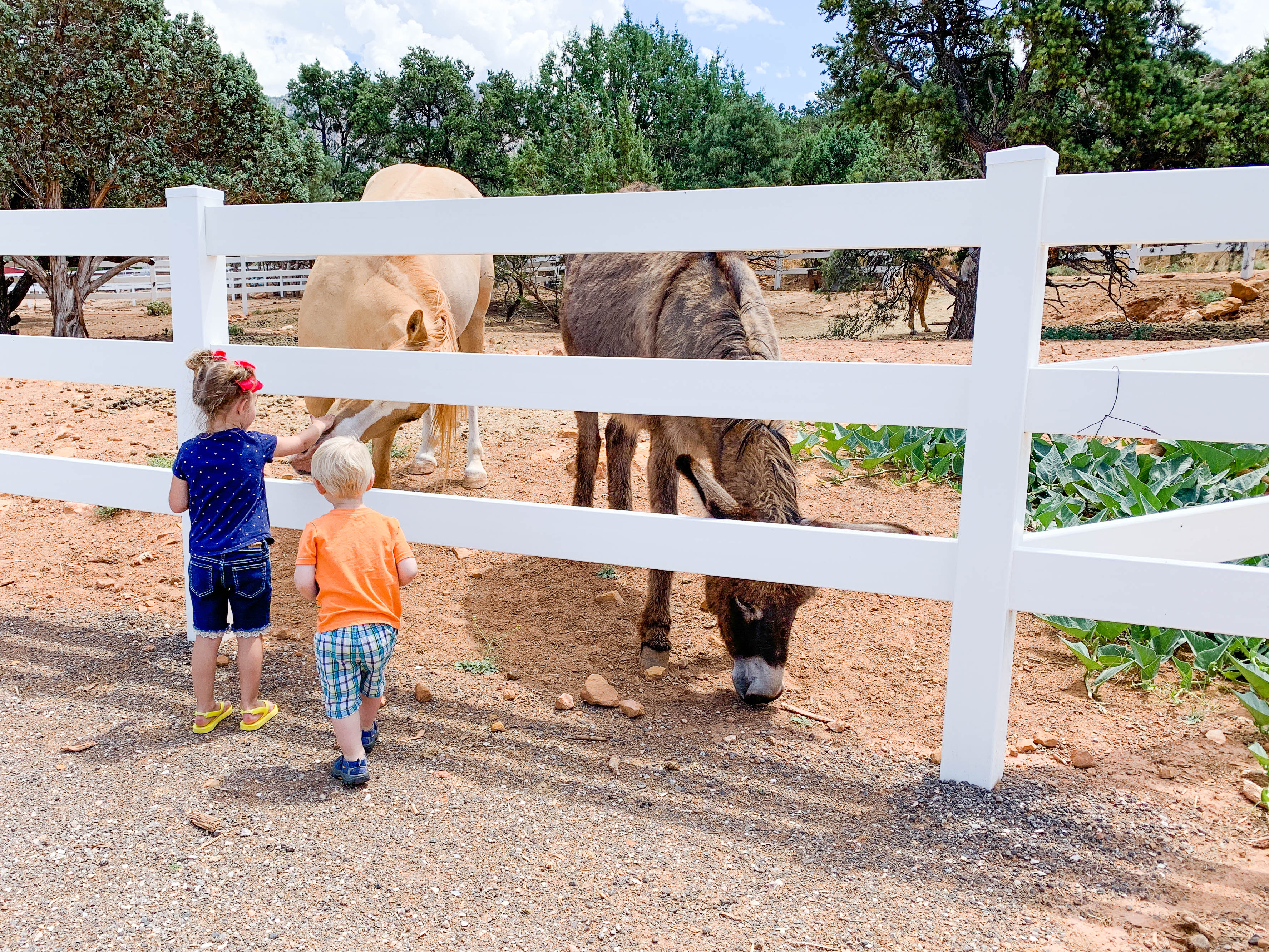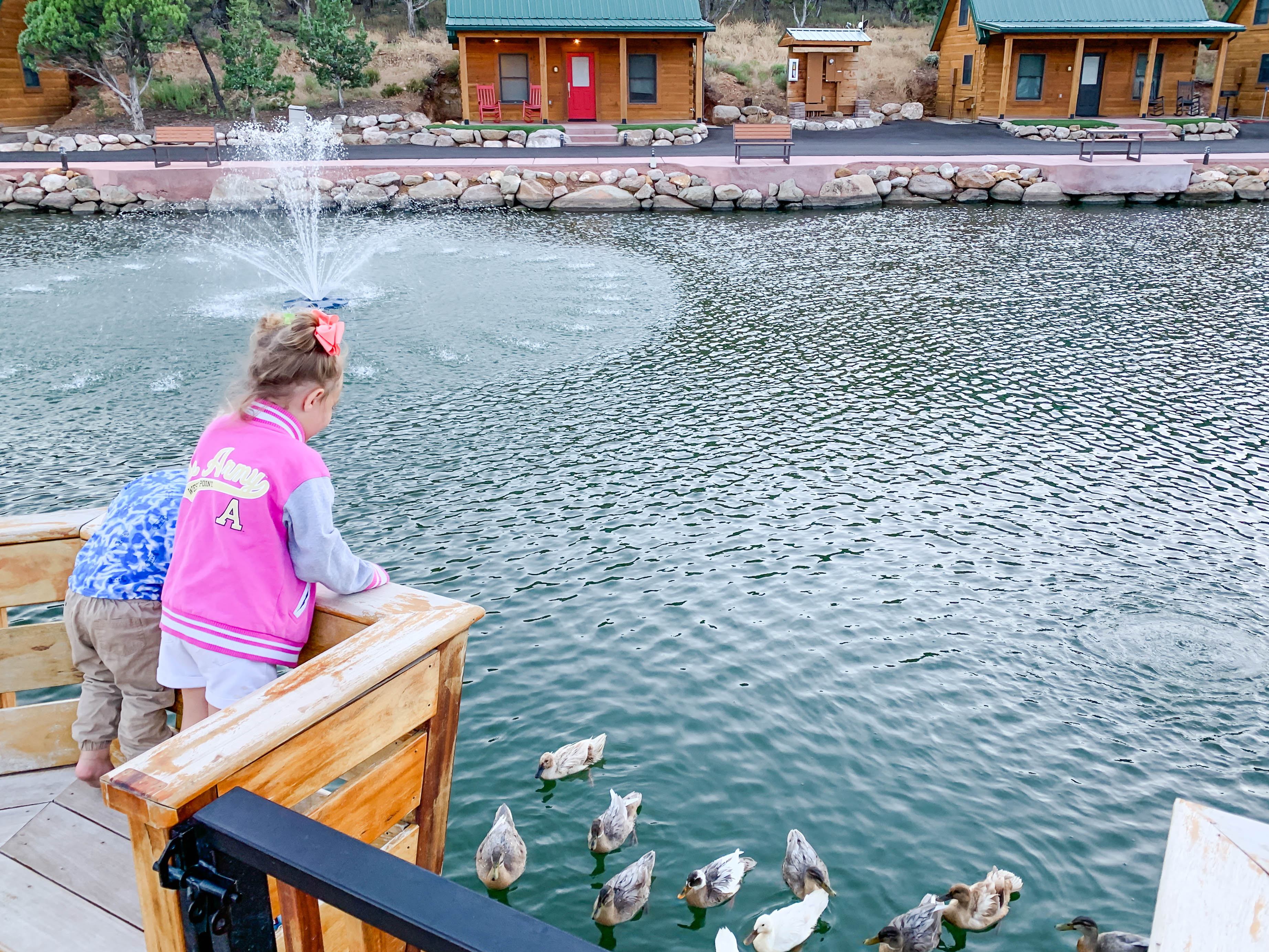 At night we made S'mores, cooked with our dutch oven, and roasted hot dogs over the fire. The Holmstead Ranch Resort had an actual fire pit and grills available to use. It was so fun being outside while still being able to cook inside in the furnished kitchen or outside on the fire. Breakfast was so easy because I wasn't having to get up before the kids to start a fire to have breakfast ready. It was perfect.
I worried at first about the water at night, but it was actually so much fun! It was beautiful to walk around the lake and watch the sun go down. The beach area had lights above it so we were able to sit and enjoy the lights reflecting off the water.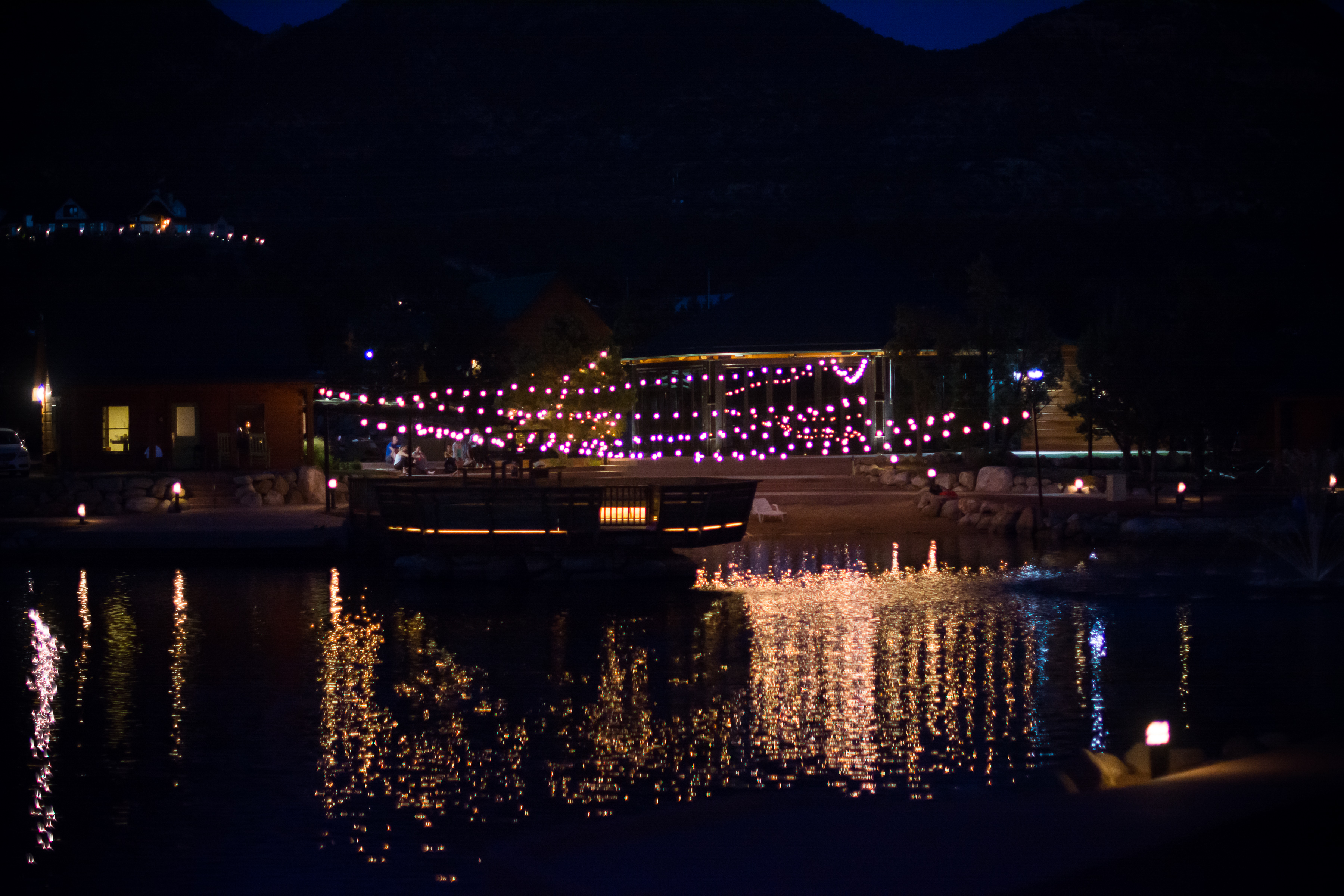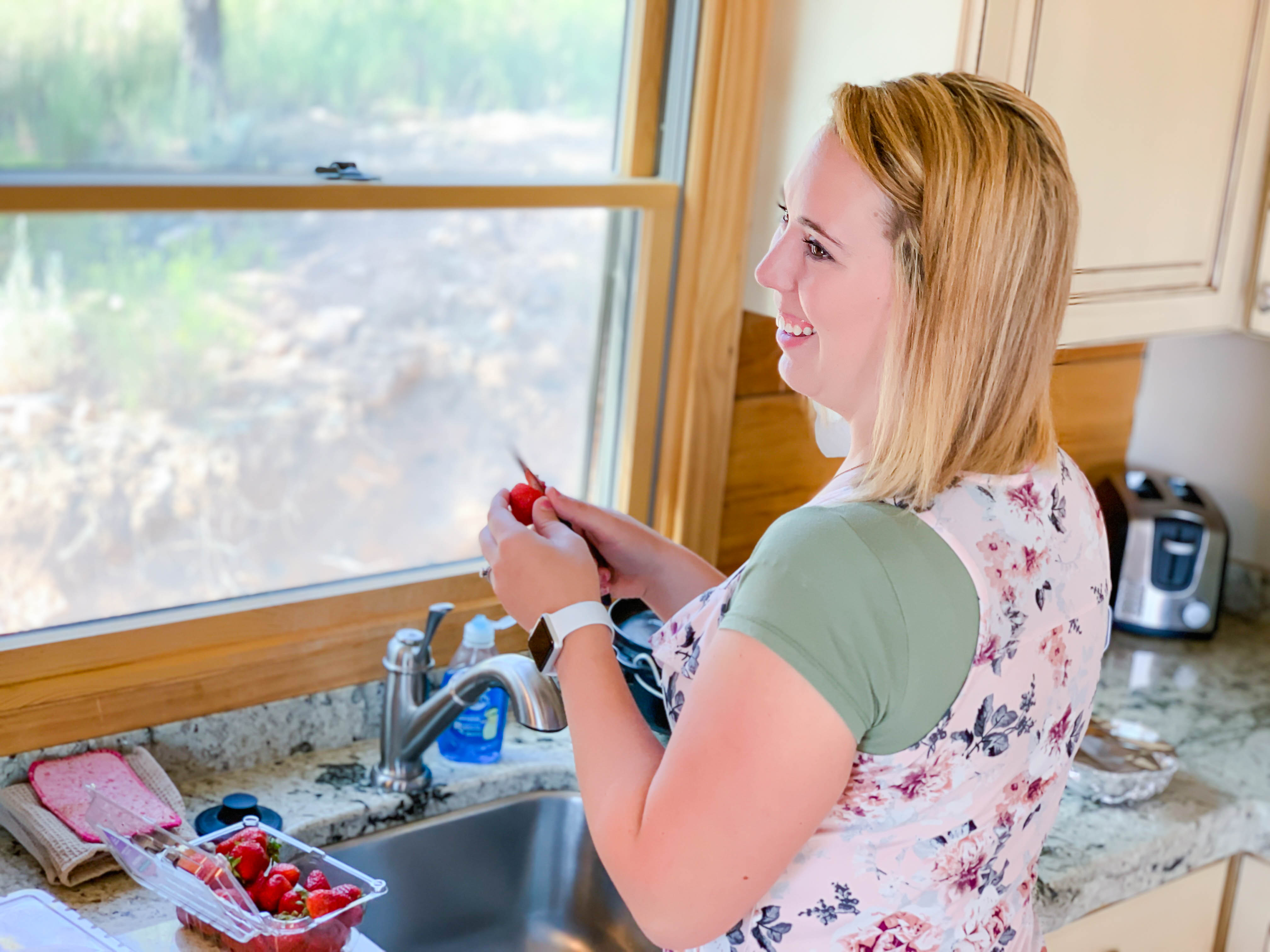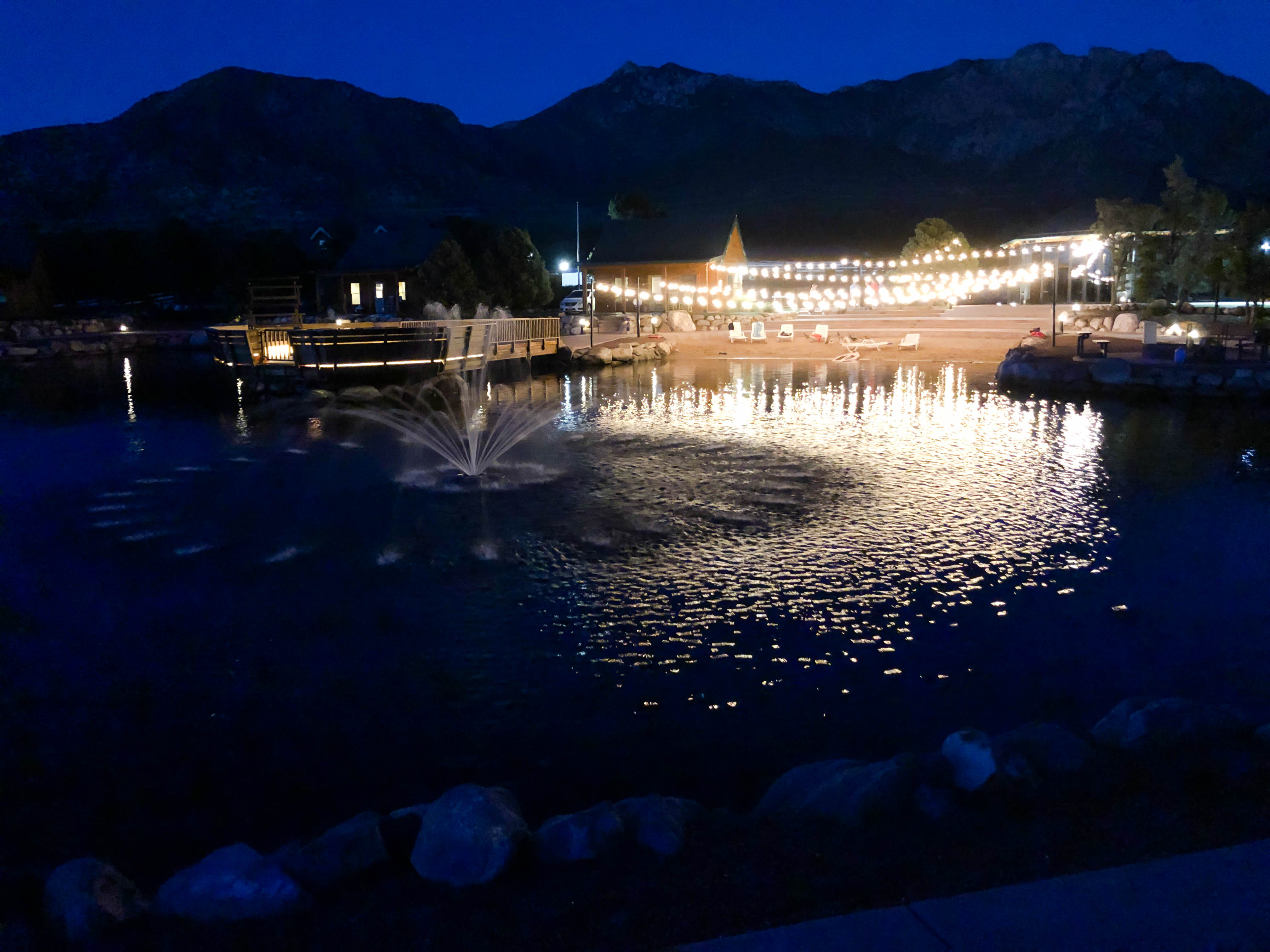 Inside the cabin there was plenty of room. Our cabin slept 4 people with a queen bed upstairs and a pull out couch/bed downstairs. There was plenty of seating and floor space so we didn't feel cramped at all. Everything was incredibly clean and beautiful and we felt right at home.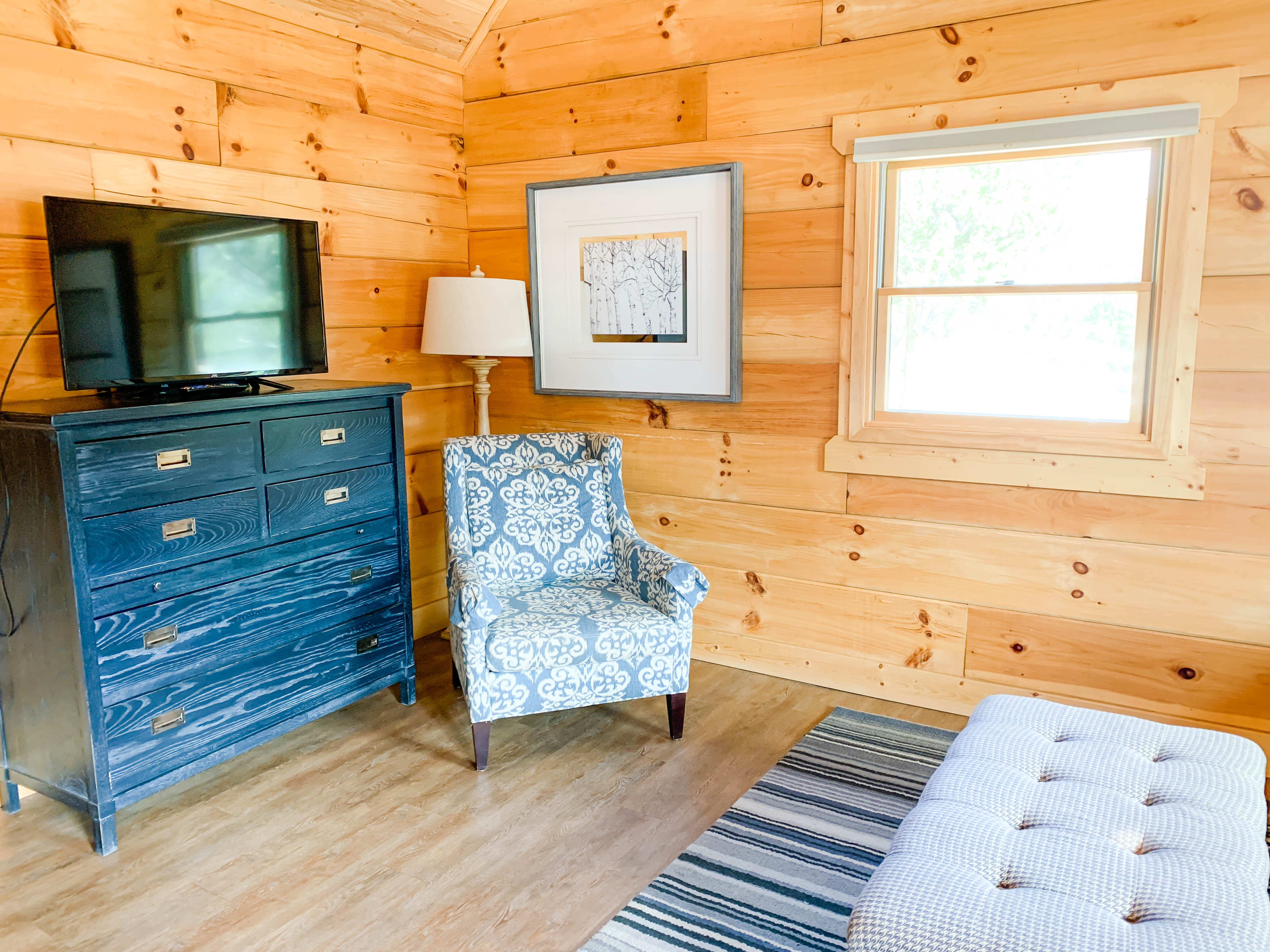 It doesn't stop there! The Holmstead Ranch Resort has a playground, basketball, horses, archery, corn hole, paintball, skeet shooting, a petting zoo, hiking, archery, ping pong, and of course the swimming with paddle boards and kayaks. We brought our bikes and rode around as there are so many places to go and explore. There were so many things to do, we could have stayed longer and never run out of fun activities.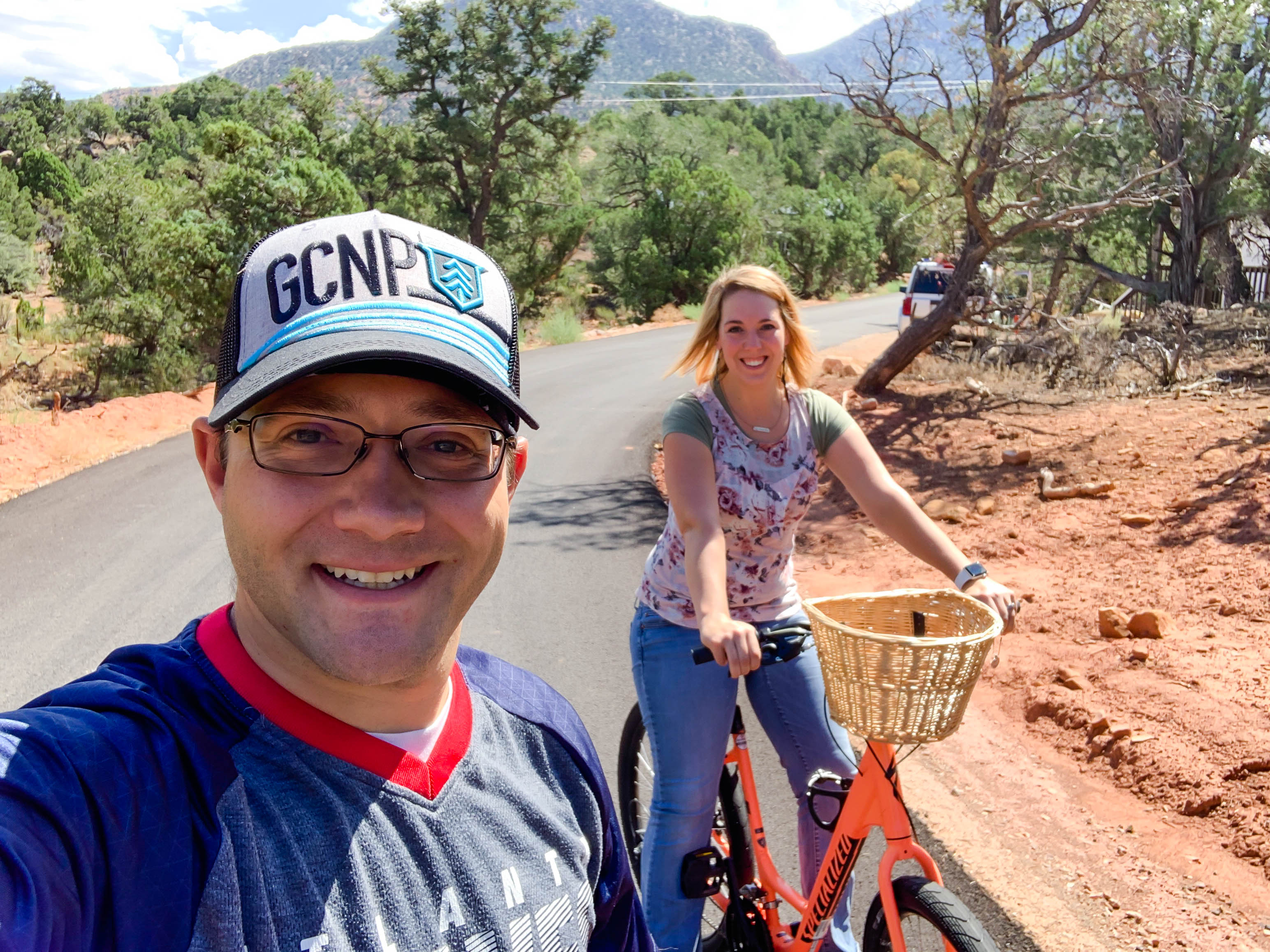 Places to Stay:
While we were there we got to see some of the brand new cottages they are building. These cottages will sleep 2 and are located a little further from the lake. Each cottage features heat, air conditioning, WiFi, satellite TV, kitchenette, modern bathroom, and a queen bed.
The cabins, that we LOVED are right there on the lake and sleep 4 with air conditioning, heat, WiFi, satellite TV, a full kitchen, luxury bathroom, queen bed, and pull out sofa. My favorite part? The adorable rockers on the front porch that you can relax in, really enjoying the beautiful view.
They also have A-frame glamping cabins in their glamping village. They include a queen bed (additional beds in the loft-style cabins), desk, microwave, mini-fridge, air conditioning, WiFi, and electrical outlets. They have shared bathrooms, complete with hot showers, that are just a short walk away.
If you really want to experience nature, they have campsites that have bathrooms, complete with showers, covered picnic tables, amphitheater, and a fire pit.
Be sure to stop by the gift shop, as it has so many things you can purchase to support local community members.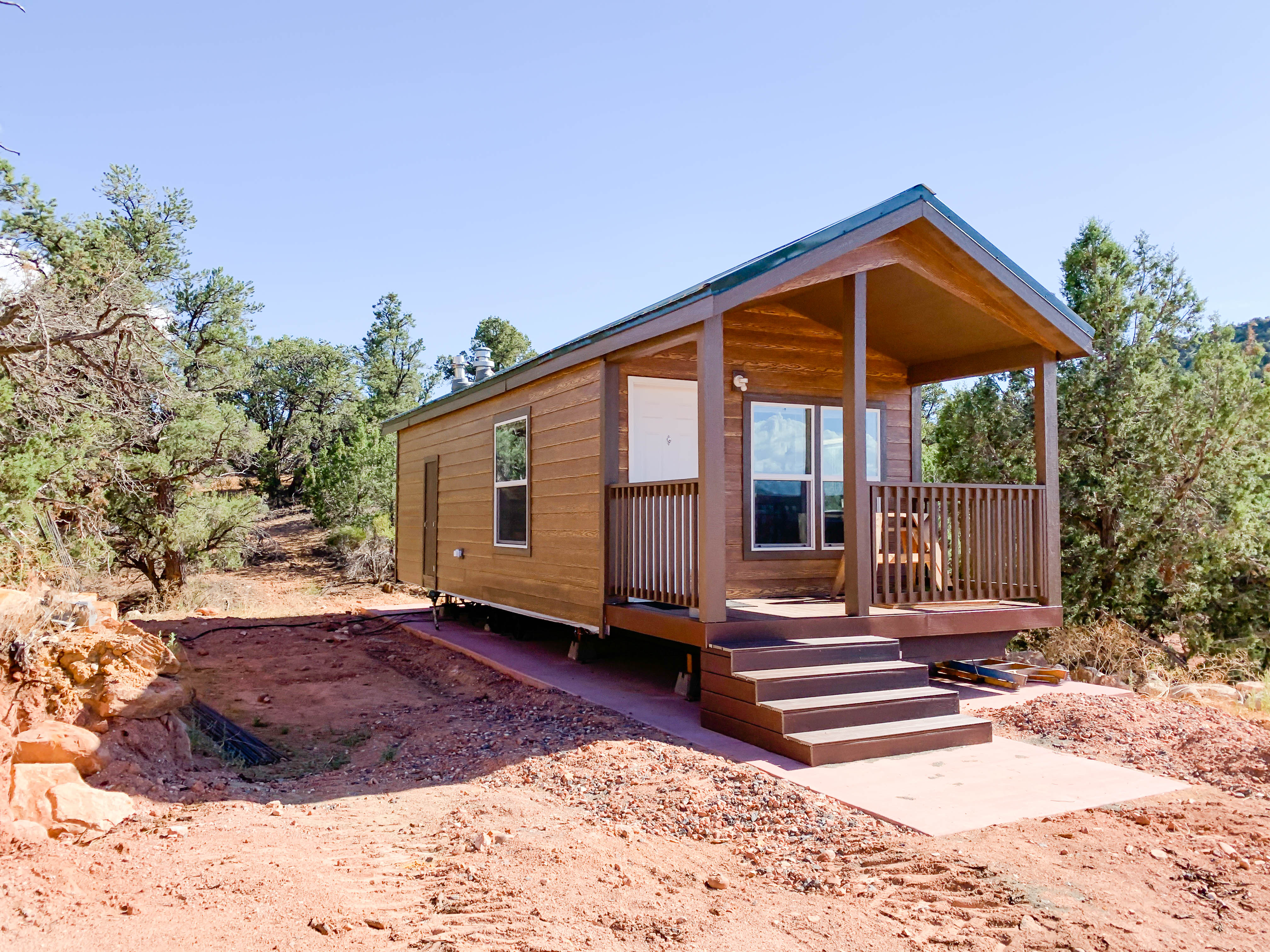 If you have a large group, they have a large, glass enclosed pavilion right off the lake perfect for family reunions, business meetings, weddings, or other large groups. It has a full kitchen, guest bathrooms, fireplace, projector, and retractable glass walls. It's the perfect combination of outdoor elegance with protection from the elements.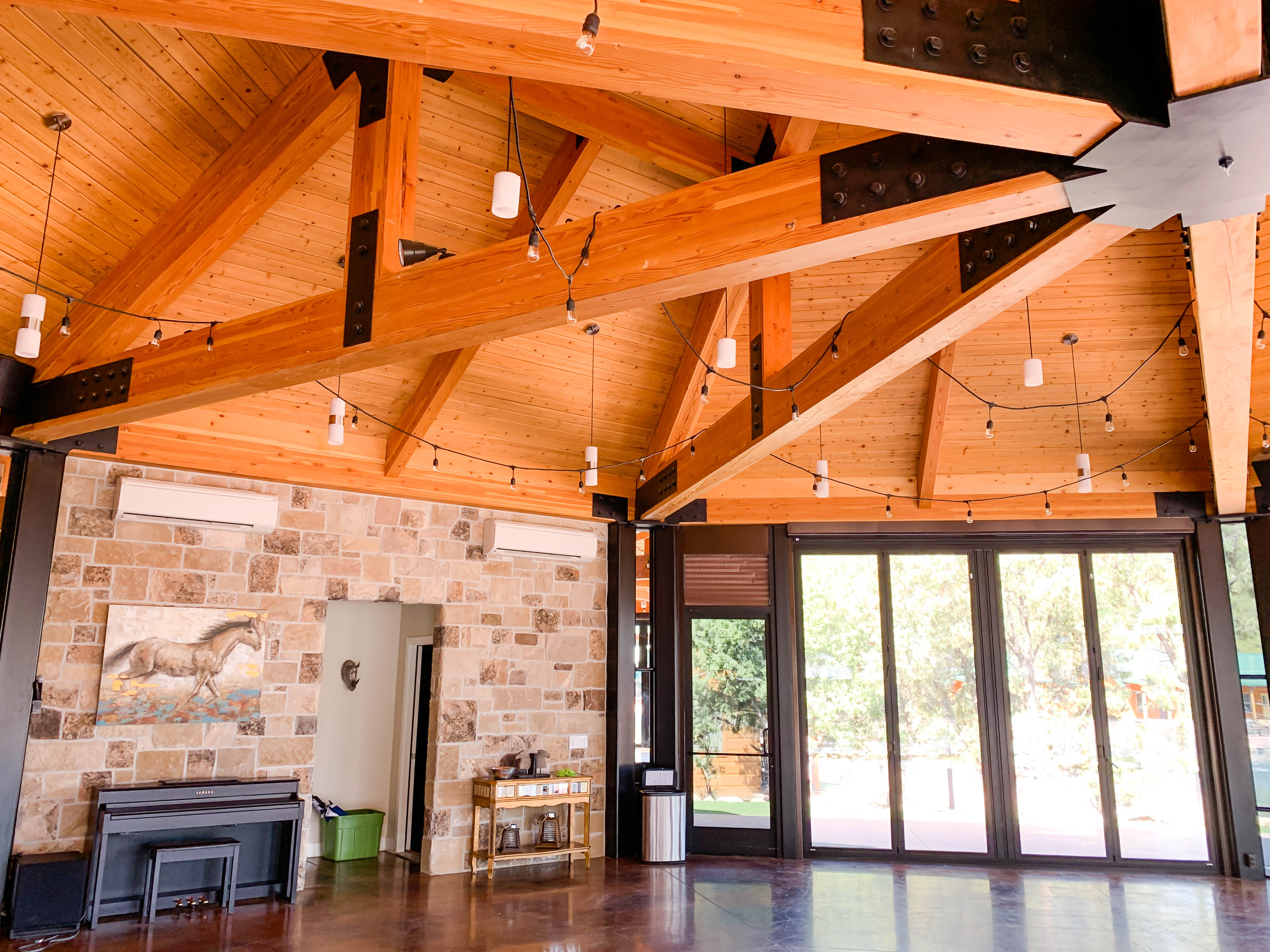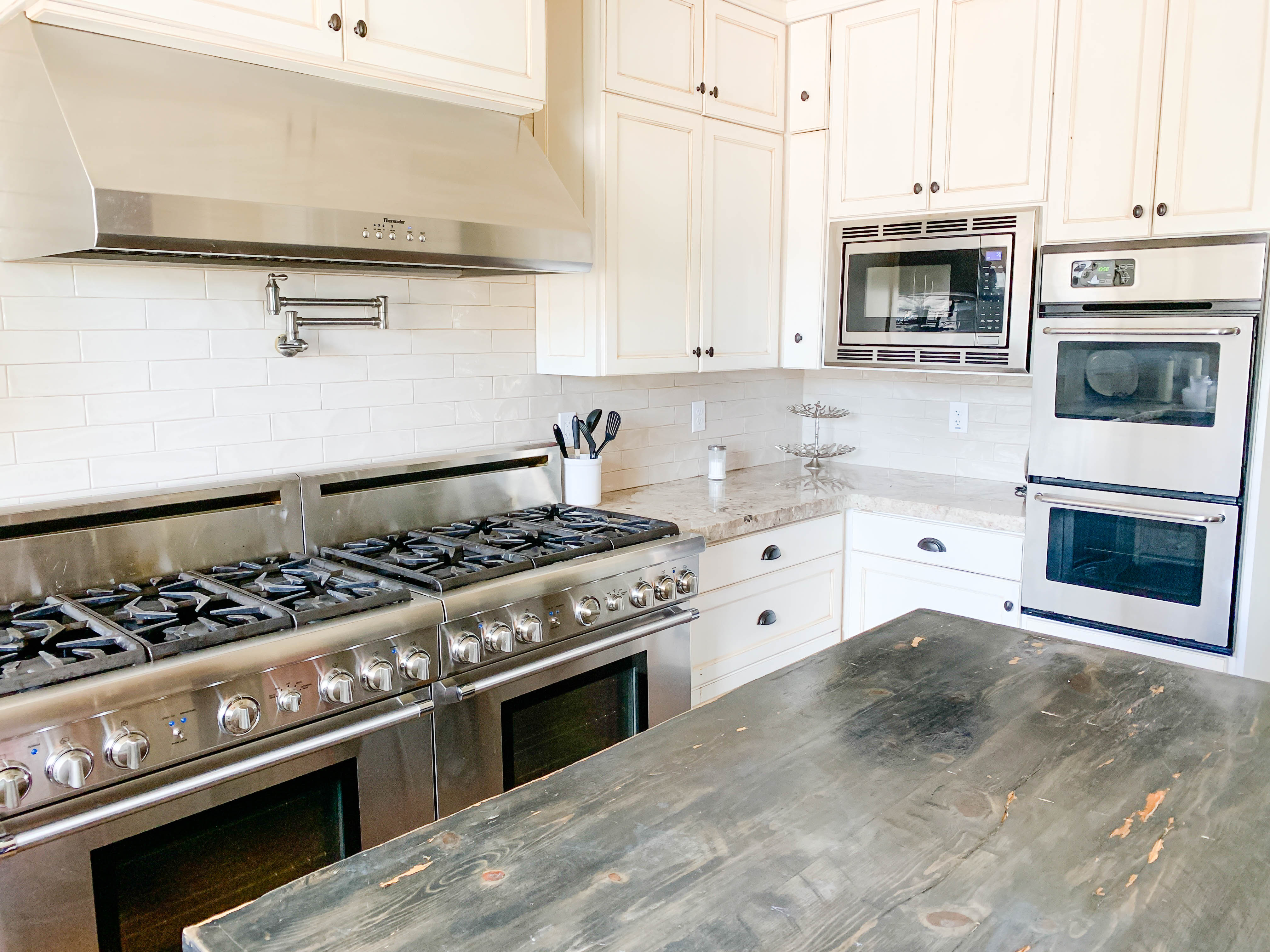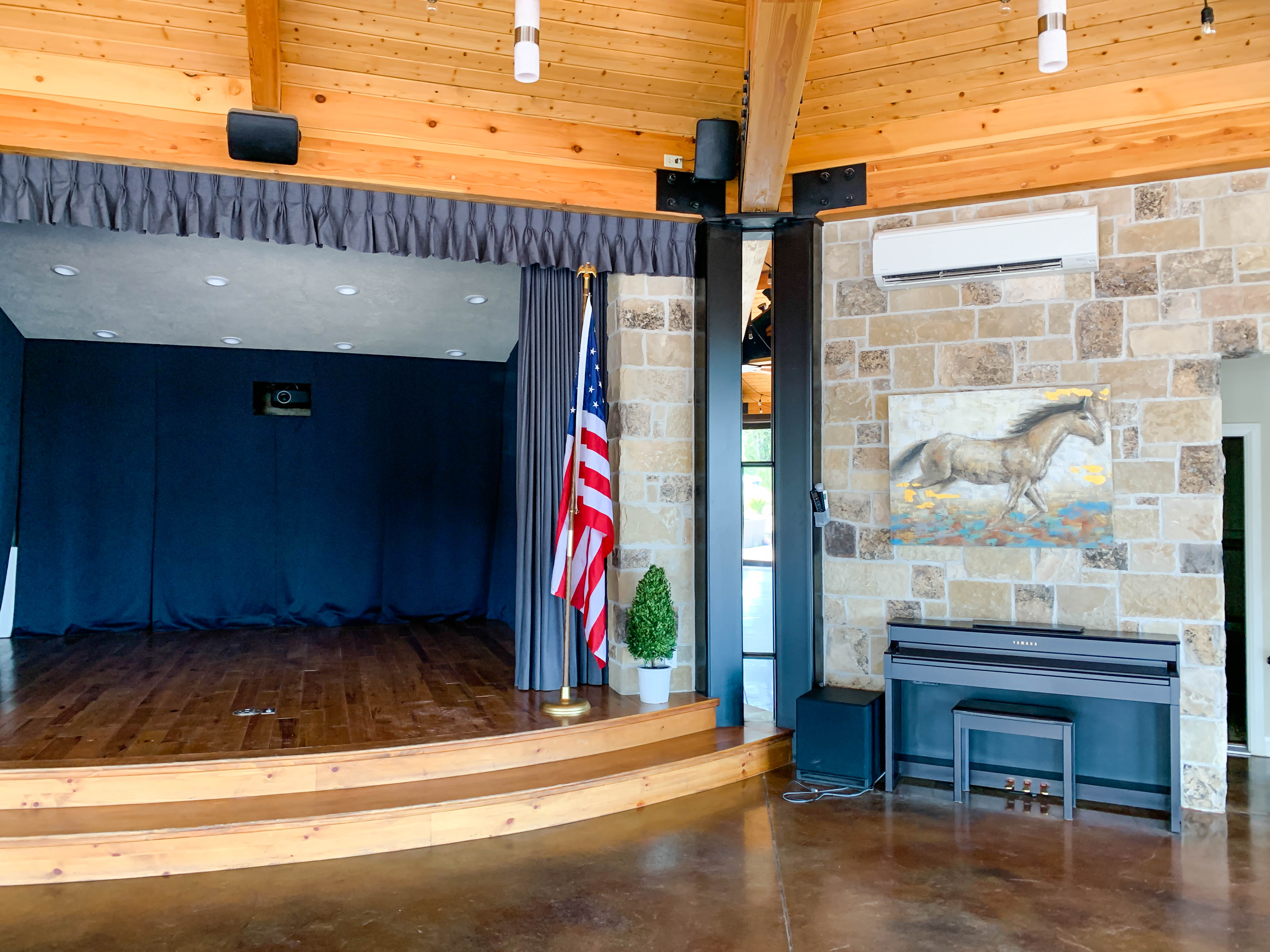 Holmstead Ranch Resort isn't just for families. Our last night there, we sent our kids home to stay with my sister and spent the last day just the two of us. It really is the perfect getaway for couples, families, or even friends.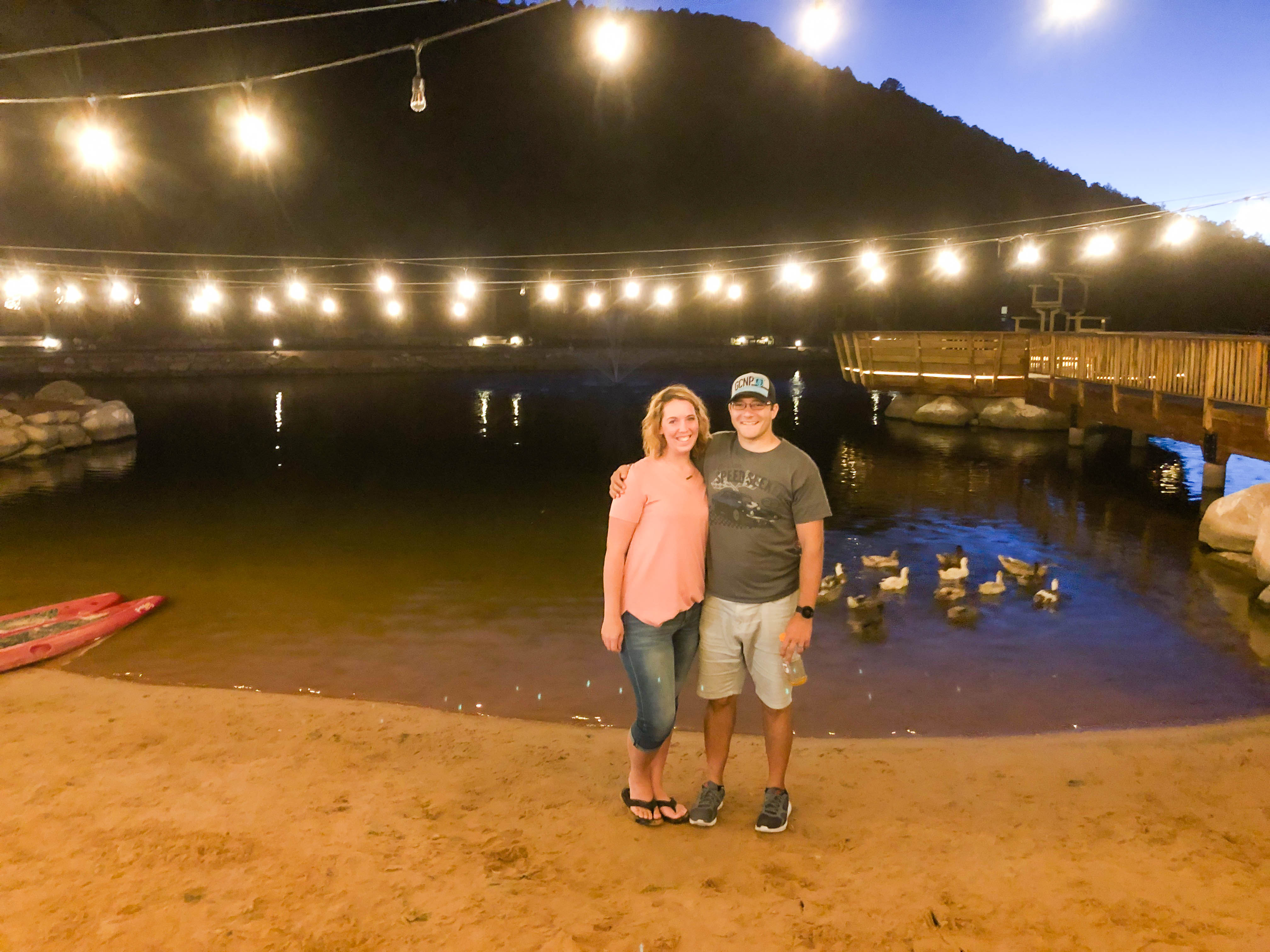 We really had the best time playing at relaxing at Holmstead Ranch Resort and can't wait to go back!

Be sure to check out their websites and follow them on social media!
Glamping Hub Website *Follow them on Facebook, Instagram, and Twitter
Holmstead Ranch Resort Website *Follow them on Facebook, Instagram, and Twitter
Contact & Location:
(435) 216-7930
Holmstead Ranch Resort
1000 Holmstead Ranch Road
(1089 East Baker Dam Road)
Central, Utah 84722