If you have a bucket list for Orlando, Florida, go and add Medieval Times to the list! Not even kidding… go write it down now! I have been excited to go to Medieval Times in Orlando for the last month and let me tell you, it was way more fun than what I expected.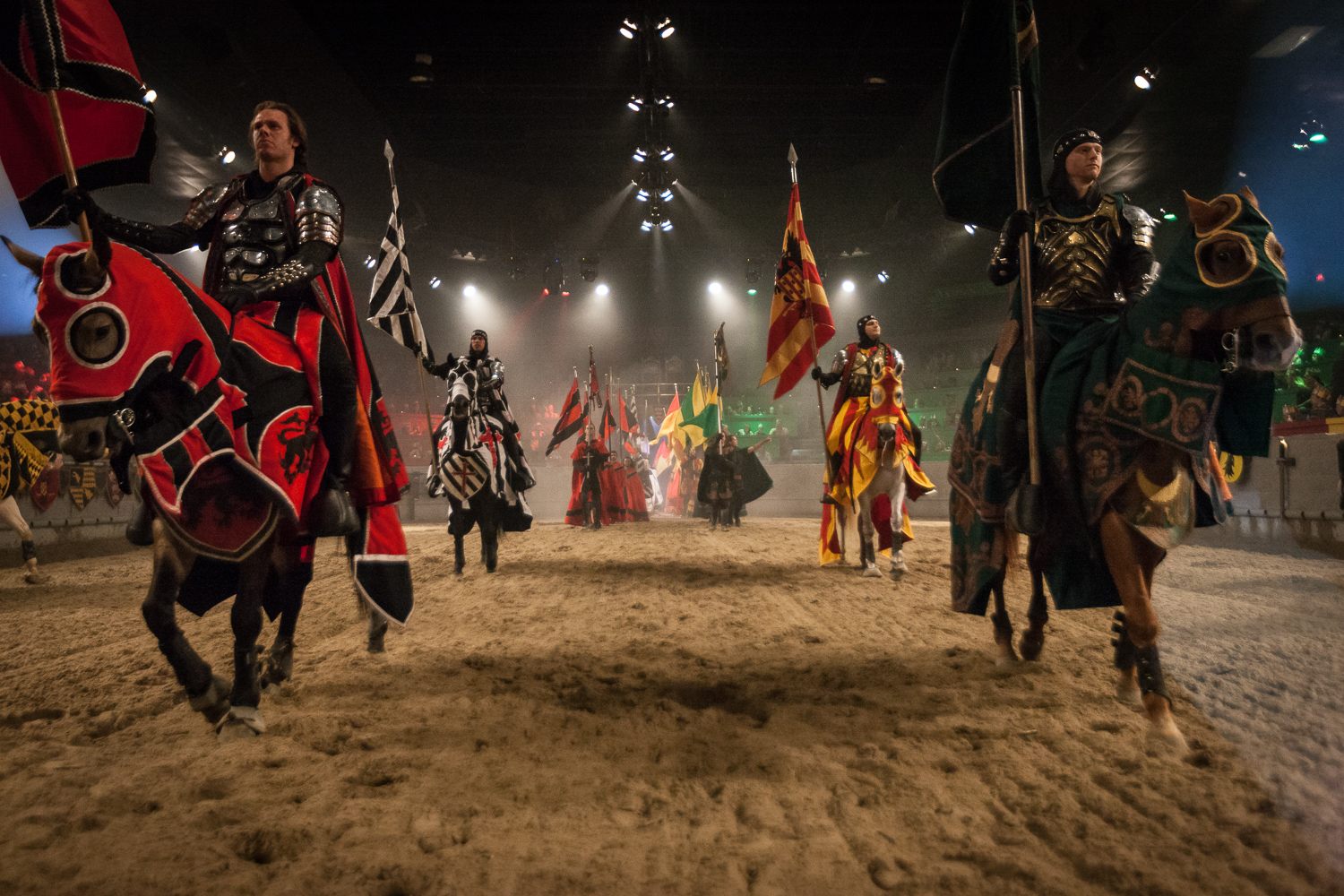 Before the tournament even starts you are thrown into the 11th Century as you walk through the castle doors. There is a big hall decorated inside the castle with fun photo opportunities and shops with all kinds of medieval fun.
Recommendation: arrive about 30-45 minutes early to be able to tour the castle and look through the shops!
Once you are in the actual arena you are seated with your group at a large banquet table. We bought the Royalty upgrade, which puts you closer to priority seating and adds a cheering banner and VIP pass to your night for $12. It was definitely worth it! Our kids barely set their banners down and really got into waving and cheering with them. If I am being completely honest… the adults did too.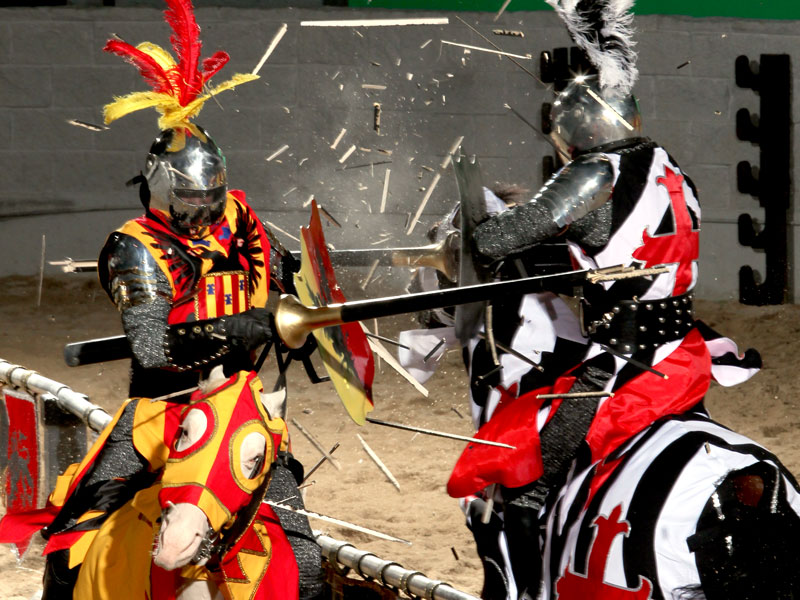 The castle serfs and wenches brought out a four-course feast as we watched the show, and it was seriously good. The food was typical of what would have been eaten in Medieval times, although they do have vegetarian options by request. The wenches also bring out drinks and refill them all night long. You eat everything with your hands and are not given any utensils, which my family absolutely loved.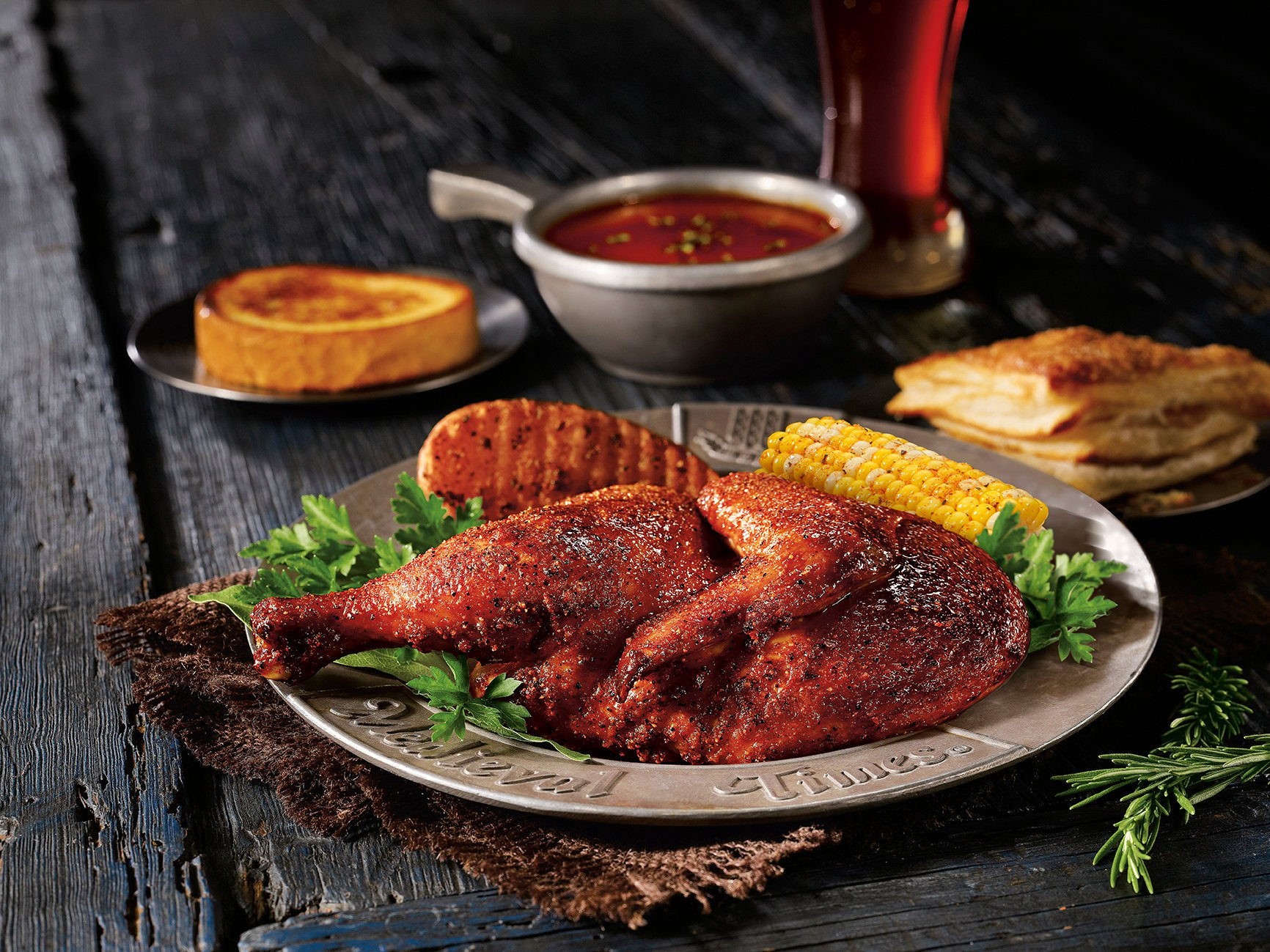 Now- let me get to the even more exciting part. You are assigned a knight that matches the color of your section, and if you are anything like our table, you cheer and yell for your knight all night long. We were assigned the Red knight (Go Red!) The Green knight was our knight's enemy so of course, there was a lot of boo-ing in his direction. Even my kids got into the cheering and booing as the tournament went on. If you are a master heckler, this is your jam. As the knights are jousting you of course cheer for your knight, but heckling the other knights is a lot of fun too.
Recommendation: really be a part of the experience. It isn't just a show to sit back and watch, it keeps you on the edge of your seat cheering and yelling and "wahoooing" …if you ask my daughter.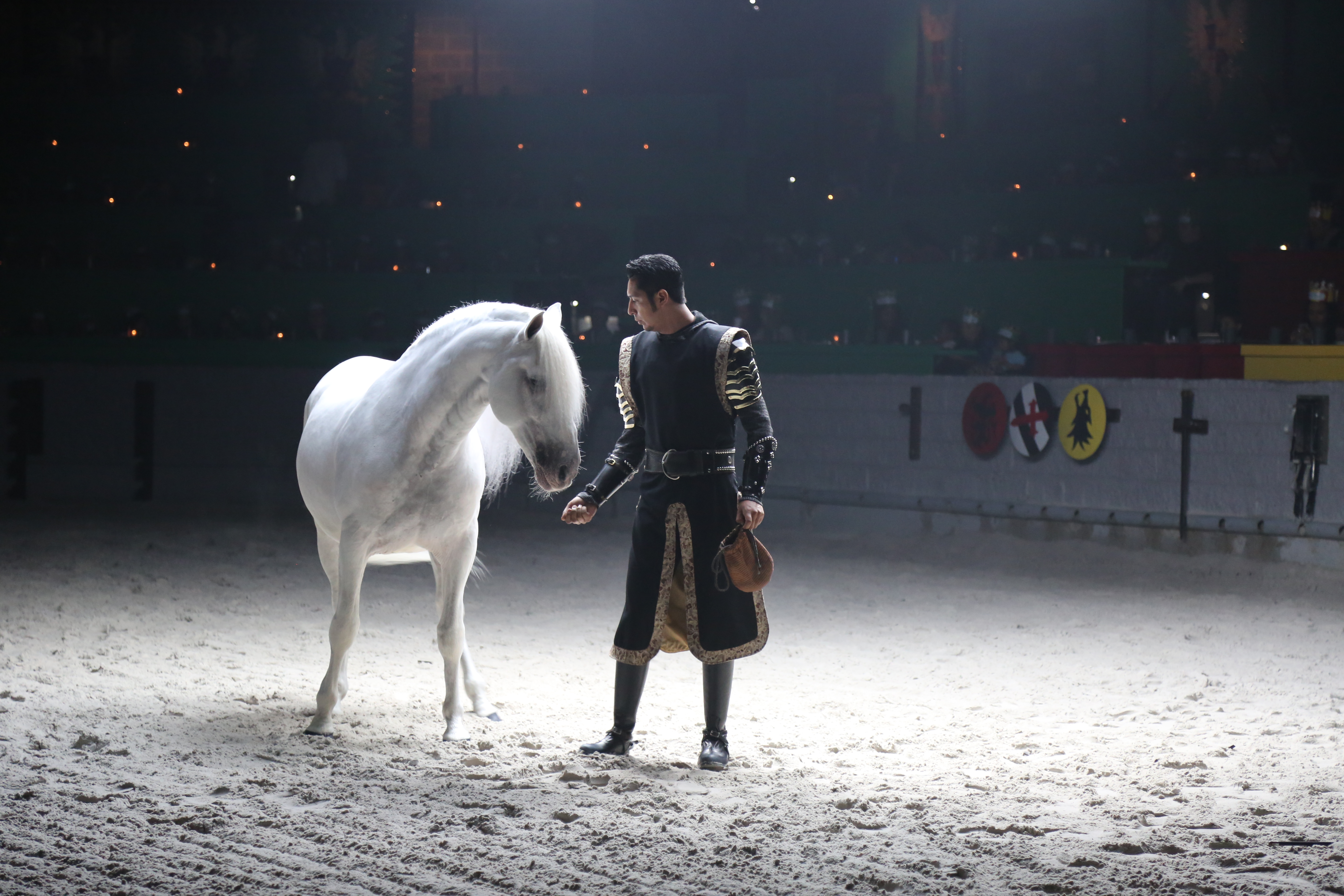 The 2-hour live tournament stays intense and captivating the entire time. There are knights on horses, a queen, a king, lights, smoke, and an amazing falcon that flies through the air, up into the stands, and over your heads. Not even kidding, it was breathtaking. Even my kids were quiet watching this majestic bird fly around the arena. 
Now, I thought we were just going to watch a jousting tournament, but before that even started we watched beautiful Spanish horses do tricks and walk around the stadium while knights did some tricks as well. They were beyond gorgeous horses and really had a talented act. There was a lot of skill involved in the fight choreography performed by the knights that even made me jump.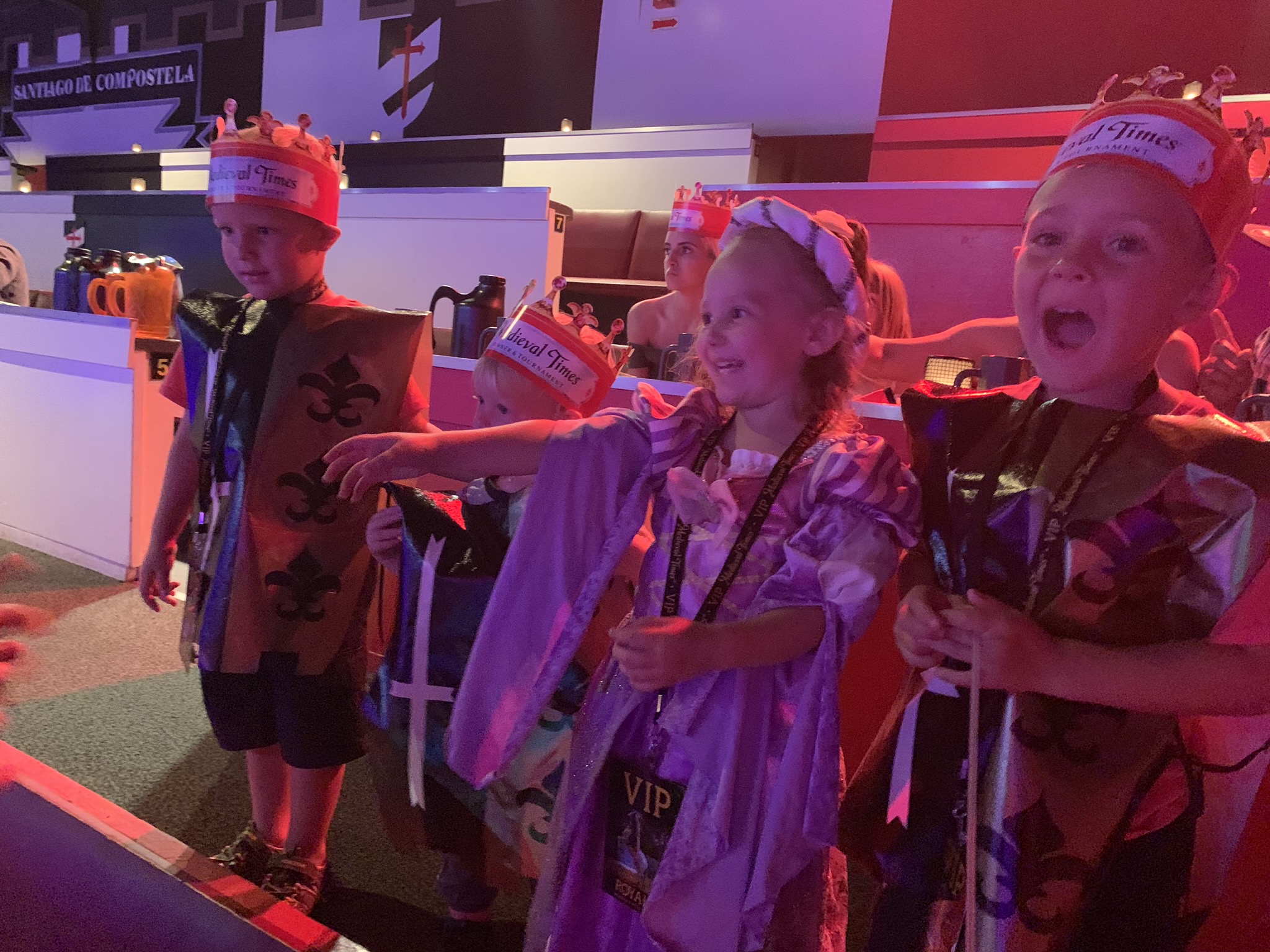 Remember how I said this isn't a show to sit back and watch? Every time a knight was successful at a trick the queen would throw down flowers to them that they would throw up to a lady in the section. At the very end of the tournament the winning knight, which was our knight (Go Red!) was awarded a tiara and sash instead of a rose from the queen. He climbed up into the stands and chose my daughter. She was given the crown and sash and couldn't have been beaming bigger. As they walked away she climbed into her seat saying, "Mom! I'm a real princess! Mom! I'm a real princess!" I don't think they will ever know how much they made a little girl's dreams come true.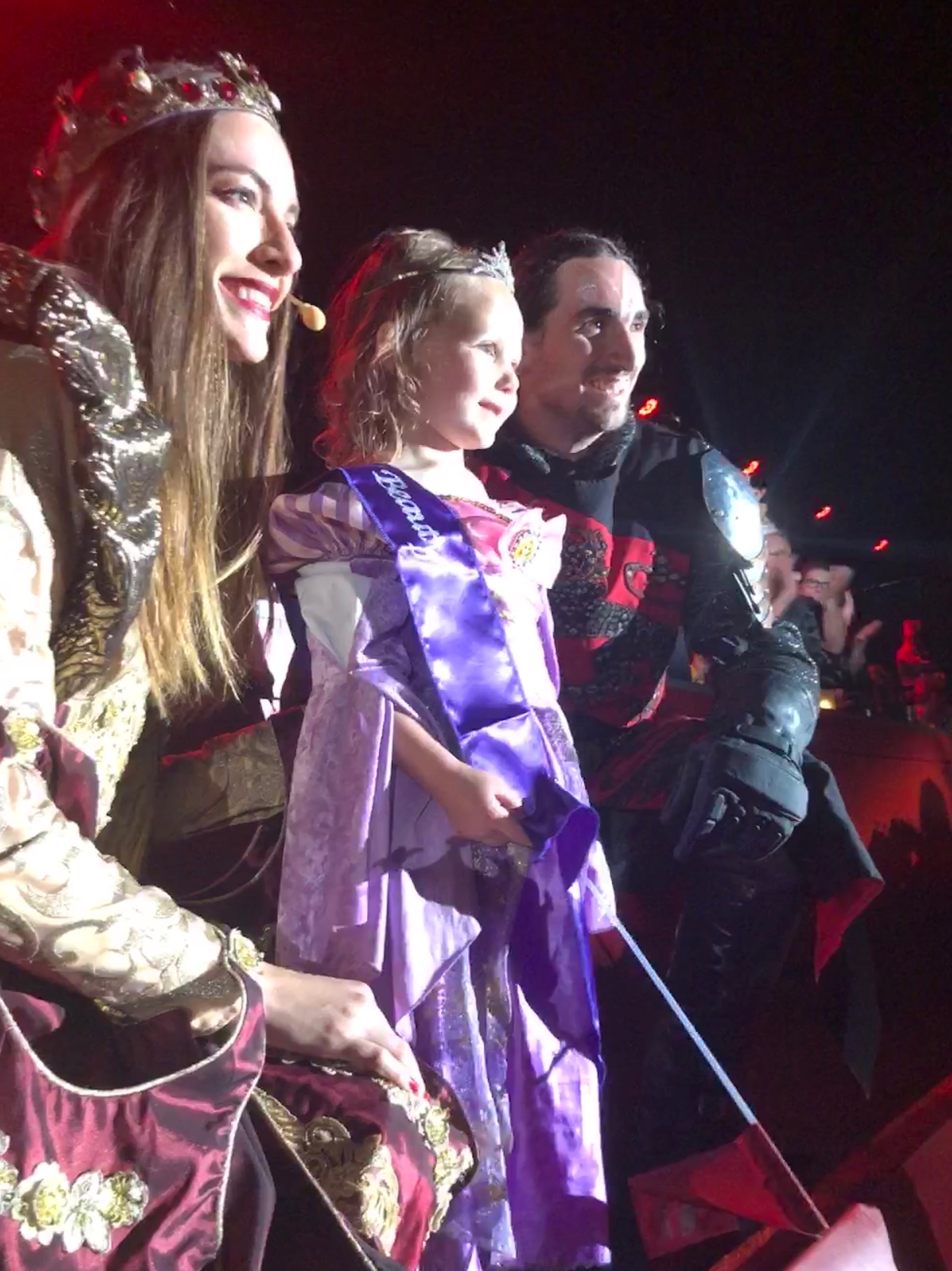 The best part? We are all still talking about it. We had a party of 12 people and every single one of us from the adults to the teenagers to the little people loved every minute of our experience at Medieval Times in Orlando. 
Recommendation: make sure you visit the Medieval Life Village (included in admission). It is an authentic replica village of exhibits of art, culture and daily life dating back 1,000 years. Their village is the only permanent medieval village that exists in the country.
If you are in the area, make sure you call and get your tickets to Medieval Times because I can say with confidence that it is a once-in-a-lifetime opportunity!
Medieval Times
4510 W Vine Street
Kissimmee, FL 34746
888-we-joust
medievaltimes.com
#MTfan