October is just getting started, but there is so much to do in Southern Utah! I don't know about you, but I love fall, October, and Halloween. St. George, Washington, Hurricane, and all the surrounding cities are busting with fun things to do this season! I have seriously been having a blast this fall and wanted to share one of our favorites with you.
We visited Staheli Family Farm and spent almost 6 HOURS there all in ONE DAY! We really loved it that much! We all had so much fun we couldn't believe we had been there that long when we left! So, let me tell you why you NEED to go to Staheli Farm before the season ends!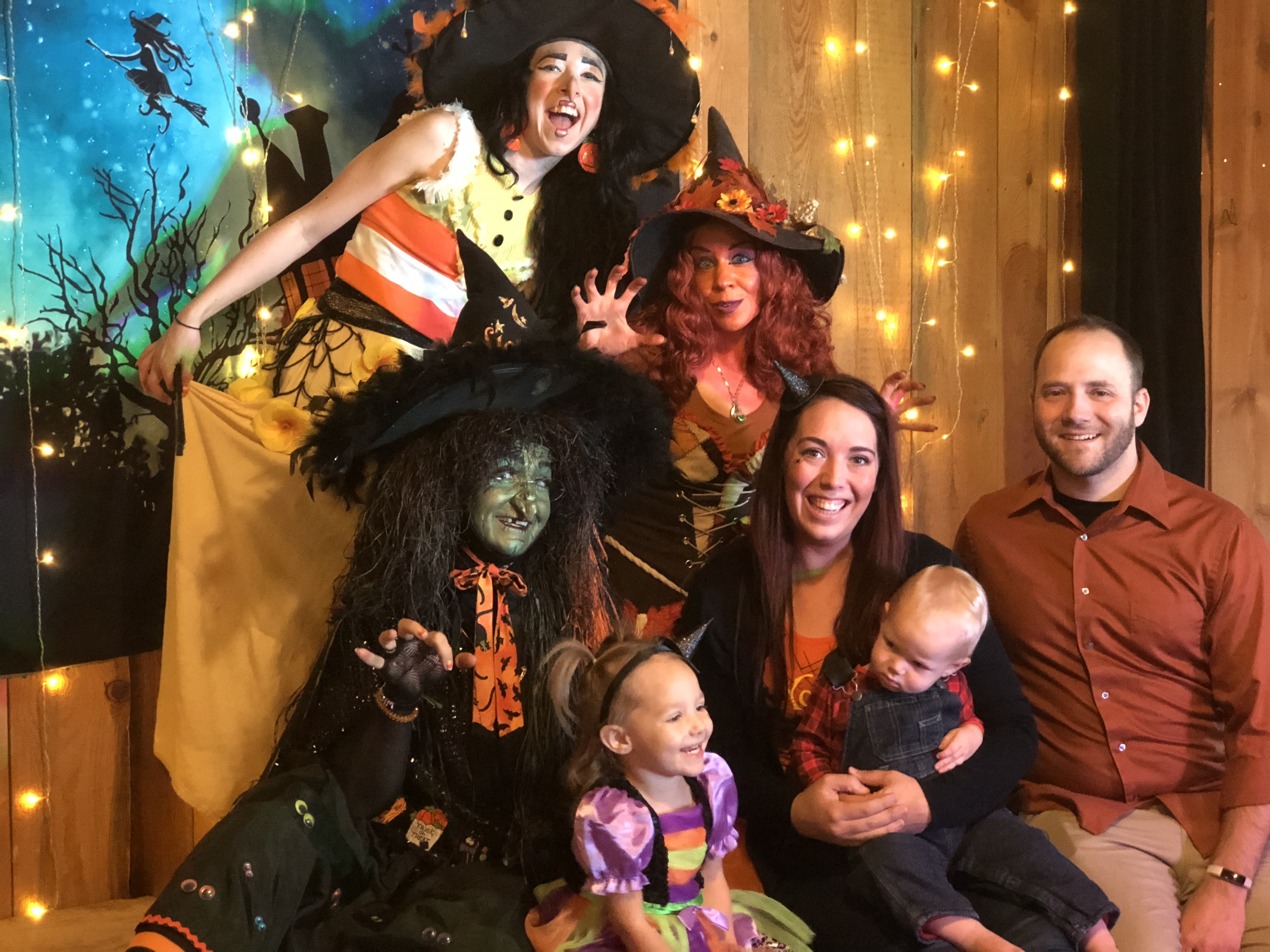 We went on a Friday morning to Waffles and Witches – which I highly recommend doing! It was fun for my husband and I AND our kids! When we went there they started off right from the get-go. All the witches (who are so fun by the way) took the kids outside to play while the adults got their breakfast and took it back to the table. Now, if you are not sitting there thinking that sounds amazing, you don't have kids. I am usually a balancing act of holding one of my kids hands while balancing two plates and just hoping the baby doesn't knock one of the plates onto the floor. Entertaining the kids while we got their breakfast was genius and I knew we were going to be friends from there! I did sneak out to see what the witches were doing with the kids and came around the corner to see a game of duck duck goose happening with some of the children, while other witches were helping some of them make crafts. It was so organized and my kids were already having fun!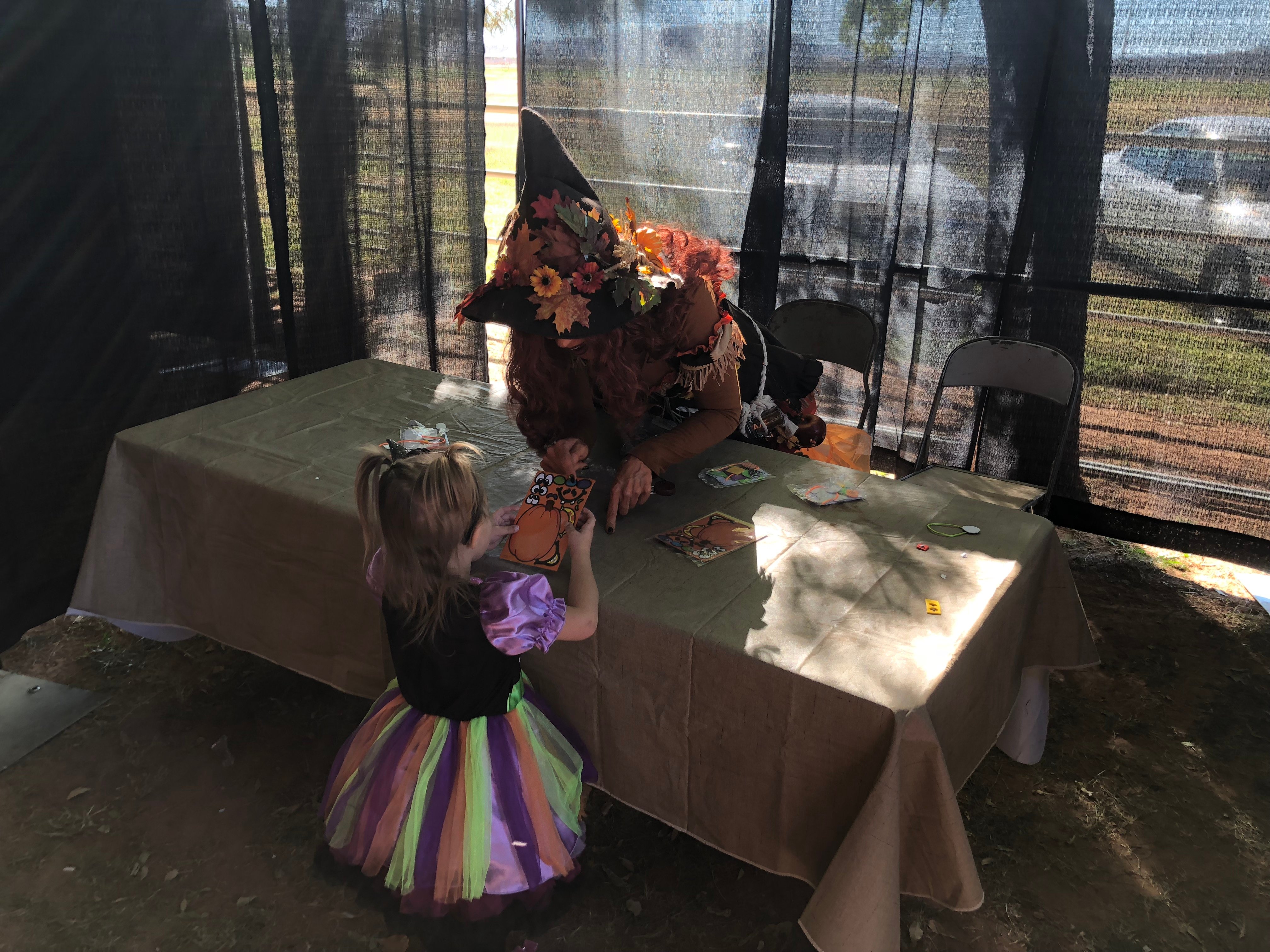 Once we had gotten everyone's breakfast, we brought our kids in to eat with us and it was all so delicious! The kids just loved the waffles, eggs, sausage, and were thrilled to get chocolate milk! The witches came around and interacted with the kids, which by the way, my daughter cannot stop talking about. We may end up back there because she wants to go back and see her witch friends and is quite worried we lost them. I am going to have to come up with a story about where they go for the other 11 months of the year… ideas? They did a darling program that had you laughing… and well… laughing some more! No tears, unless they were tears of laughter! It really was such a delightful morning with our "witch friends", great food, and fun entertainment! We then went outside and let the kids play at the farm for a while, but more on that later, because we had to go home to take a nap! We had a big evening back there at the farm so we let the kiddos sleep the afternoon away and then headed on back to Staheli Family Farm for the evening!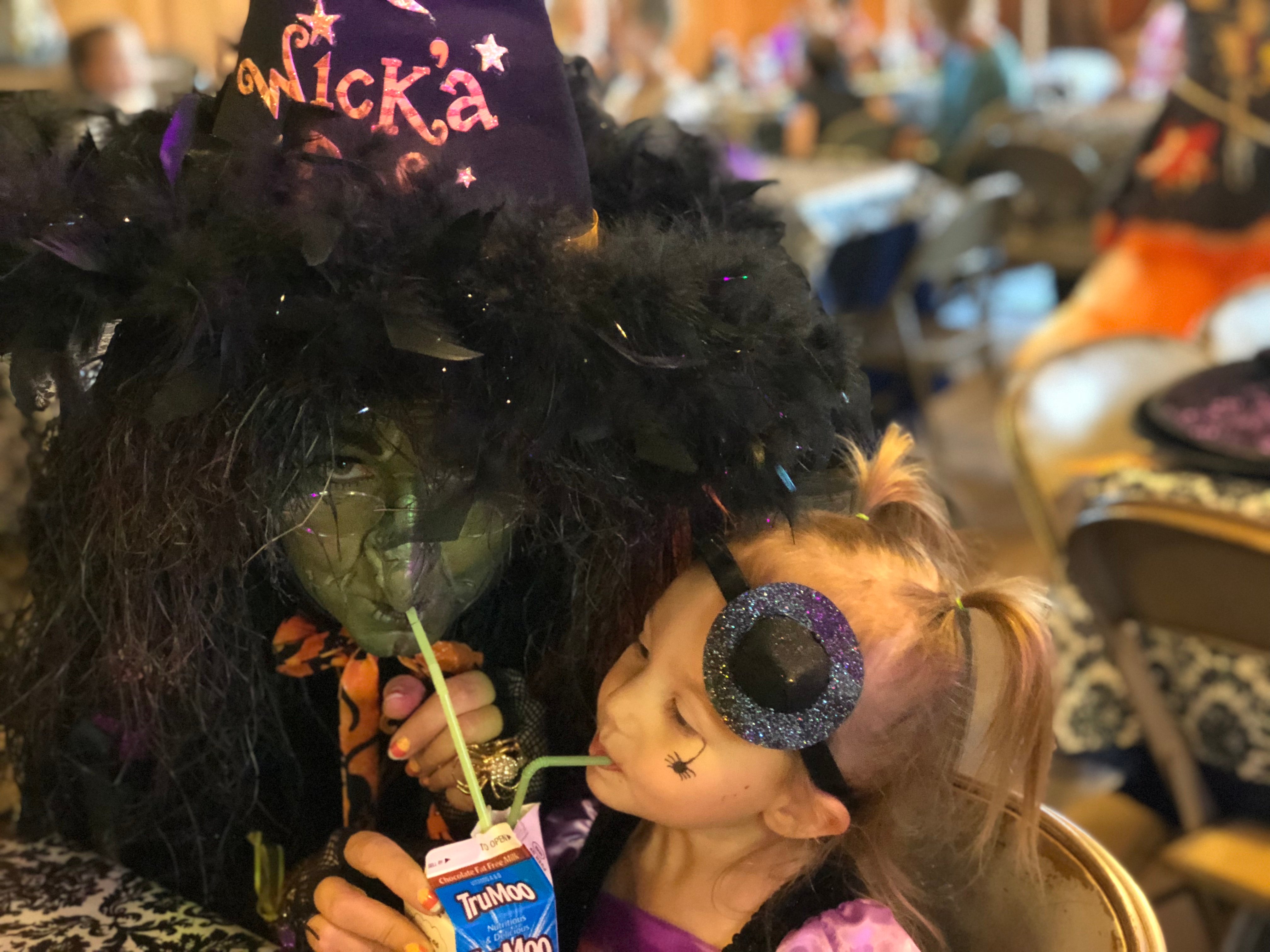 We went back over at 5:30 and the kids got to spend time playing on the farm! Some of our favorites were the horse swing, the big slide, and the pumpkin patch! They were so excited and there was so much to do, no one ever got bored! The only time there might have been tears was on our way back to the car. These two did NOT want to leave.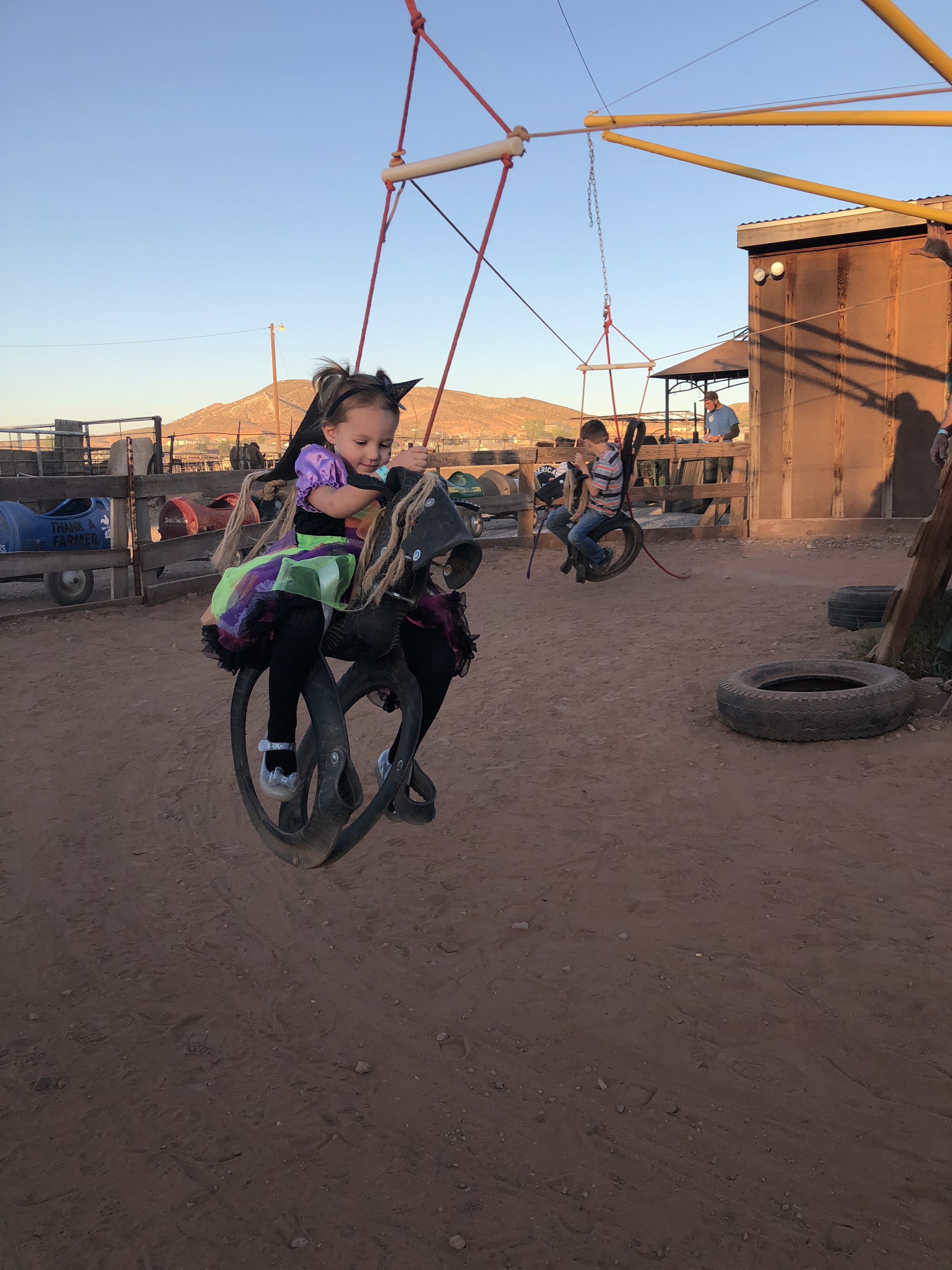 My daughter got to see the witches again which was a dream come true. I'm not even exaggerating about that… ask any of my neighbors and they will tell you all about how excited she has been all week to meet the "Spooky witches" who are now her "Witch friends". Let me tell you about all the fun options you have when you go to the farm and then I'll tell you how much more fun it became as the sun started to go down…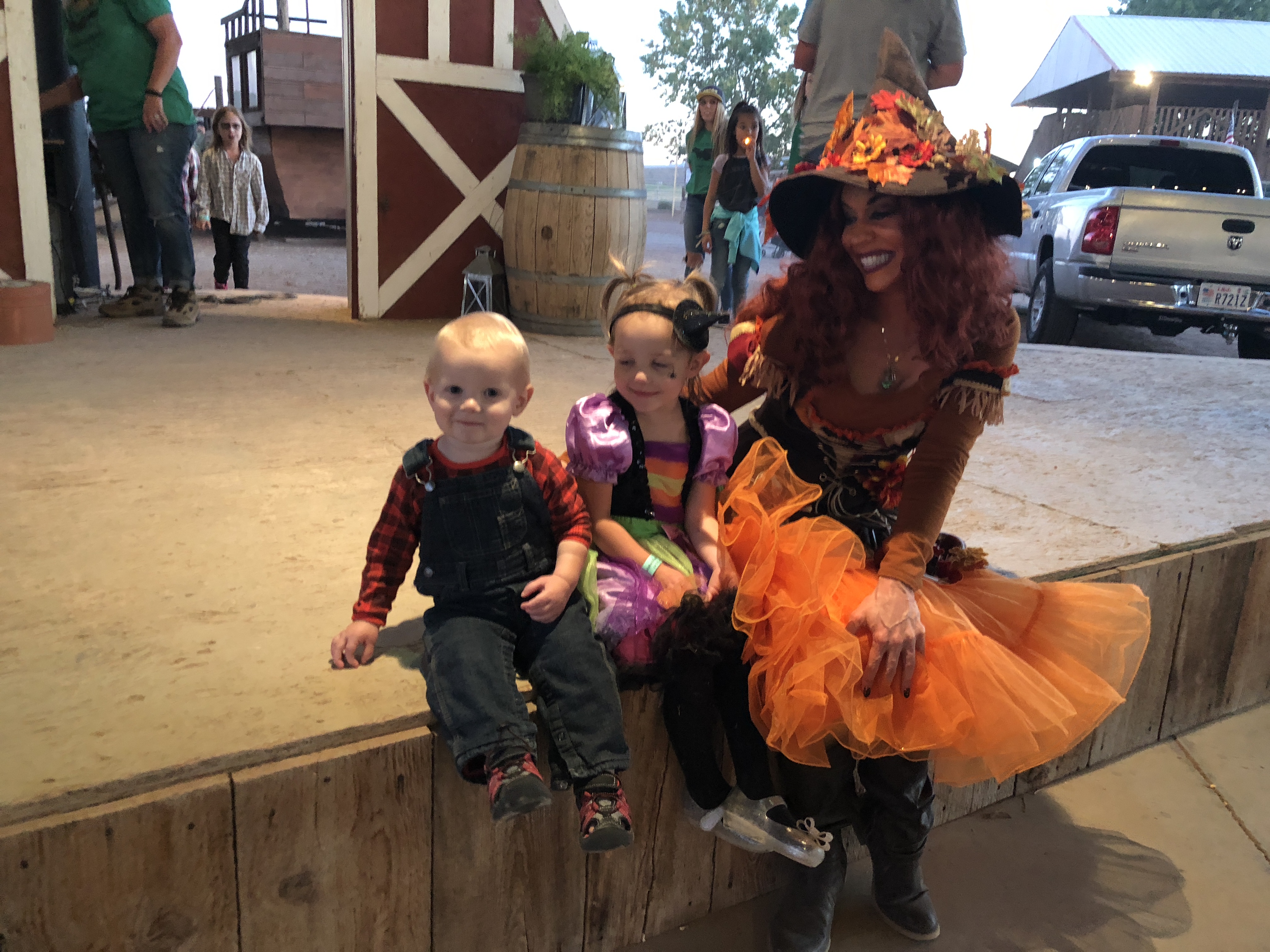 Once the sun went down, right around dusk we rode the cow train up to the Spooky Trick or Treat Trail. The cow train in and of itself was a highlight and my kids loved it! They would have ridden it way longer I am sure. When they let us off Candy Corn (one of the witches) led us through the haunted house… but you are going to have to check it out for yourself to see how spooky it really is! Outside the house was a huge cauldron we stopped in just long enough to take a picture with the witch who thought we looked good enough to eat! Around the corner, the kiddos got to trick or treat to the most adorable (in a witchy way) cottage and left with a piece of candy! Before we took the cow train back to the farm we ran into Wick-a-Dee who was signing pictures of herself and my daughter might still be carrying that around the house days later… She really loves these witches! After the cow train back we spent the rest of the evening eating yummy food, dancing on the dance floor (it was Family Farm Dance Night) and enjoying a good ol' time!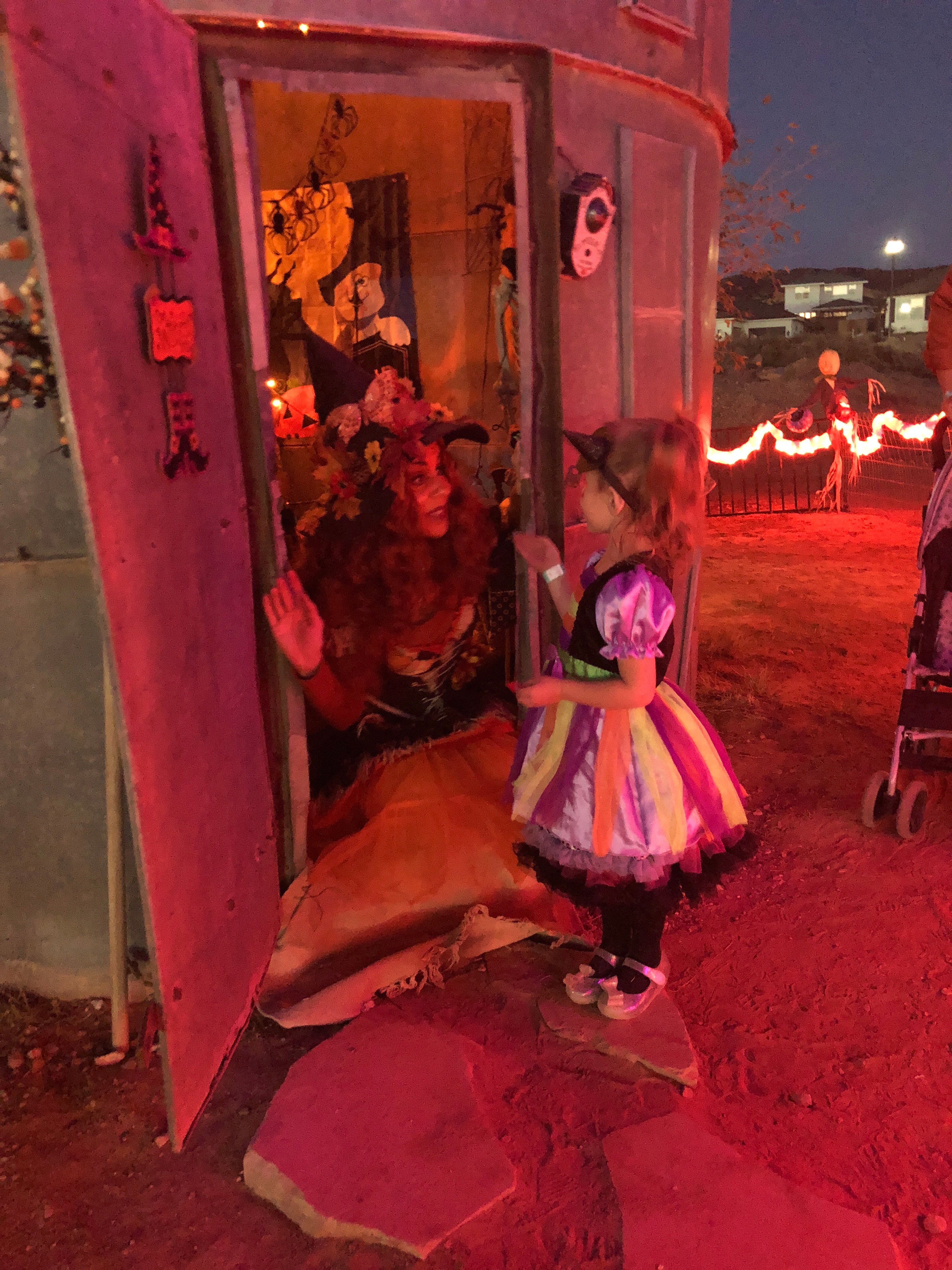 If you have not gone to Staheli Family Farm this October, hurry up, get your tickets, and GO! You will love it, your kids will love it! Staheli Family Farm really provided such a fun atmosphere, endless things to do, and a whole lotta fun memories of this Halloween for my family!
Go to their website for more information on tickets!